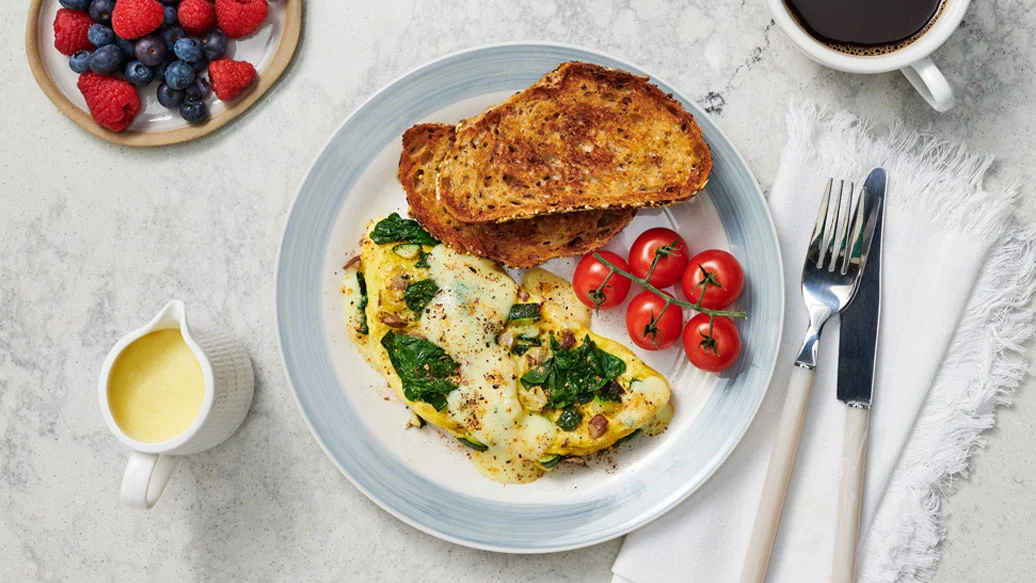 7 min
1 serving
$2.50/serving
Eggs love veggies! Omelets are a simple way to introduce a new, meatless meal for breakfast or dinner. FYI, "CCB" is short for "Cheese, Chives, and Bacon". The twist here is vegetarian bacon—made from pinto beans.
Perfectly Balance Your Plate
Serve with 2 slices of lightly buttered toast.
Ingredients
1⁄2 small zucchini
1⁄2 cup sliced mushrooms
2 eggs
2 tbsp milk
1⁄4 cup baby spinach
Topping (optional): Black Pepper (Grinder)
Preparation
Dice zucchini and chop mushrooms into smaller pieces. 
In a small bowl, whisk eggs, milk, and dip mix until frothy. Stir in diced zucchini, mushrooms, and spinach.
Pour into lightly oiled Omelet Maker (it will be full!). Close lid and microwave on high for 4–5 min, or until eggs are cooked.
Loosen omelet with a spatula and carefully transfer onto a plate. Top with prepared sauce and black pepper, if desired.
Nutritional Information
Per serving: Calories 260, Fat 16 g (Saturated 6 g, Trans 0.1 g), Cholesterol 385 mg, Sodium 240 mg, Carbohydrate 12 g (Fibre 2 g, Sugars 5 g), Protein 17 g.
Tips
Prepare Hollandaise Sauce the night before. Reheat in the microwave until warm, whisking every 30 seconds.