Powered Up Fruit Explosion Muffins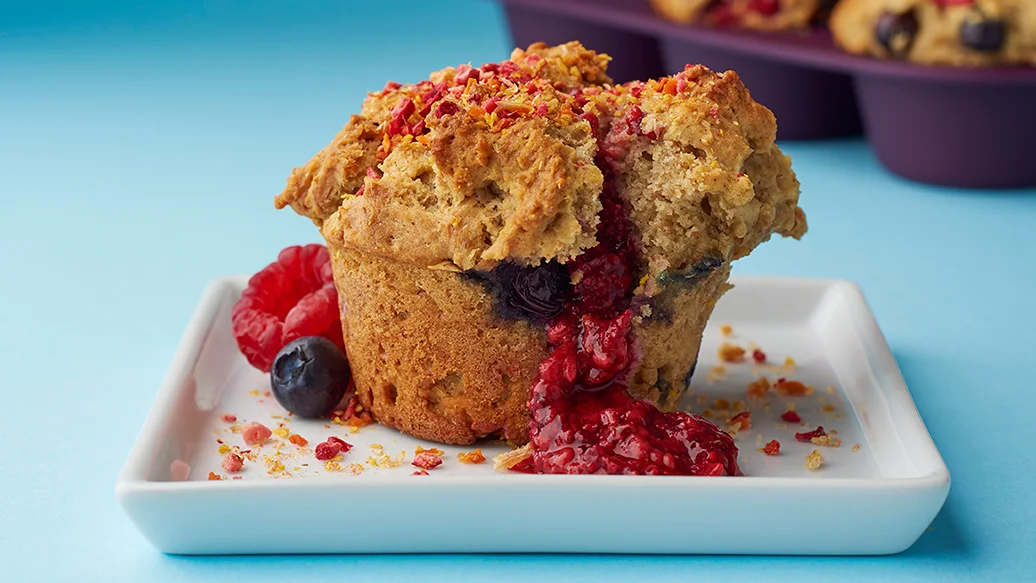 35 min
12 servings
$0.90/serving
Ingredients
2 cups flour, your choice
1 tsp baking powder
1⁄2 tbsp baking soda
2 large eggs
1 cup plain yogurt
1⁄2 cup oil
1⁄4 cup jam
Tutti Fruity Whole Food Topper, to taste
Preparation
Preheat oven to 425° F (205° C). Brush a Perfect Portion Muffin Pan with vegetable oil and place on a Sheet Pan.
Whisk first four ingredients and set aside.
In a separate bowl, whisk together eggs, yogurt, and oil.
Using a Corner Spatula, gently stir wet ingredients into dry until just moistened. Do not overmix.
Fill each muffin pan cavity 1⁄4 full. Drop in 1 tsp jam, then more dough.
Bake for 20–25 minutes. Once cooked, use a basting brush to brush tops with water, and top with whole food sprinkles. Let cool 5 minutes before unmolding.
Nutritional Information
Per serving: Calories 210, Fat 12 g (Saturated 2 g, Trans 0 g), Cholesterol 45 mg, Sodium 110 mg, Carbohydrate 19 g (Fibre 1 g, Sugars 2 g), Protein 7 g.
Tips
Add 1⁄2 cup small fresh or frozen berries to the batter.