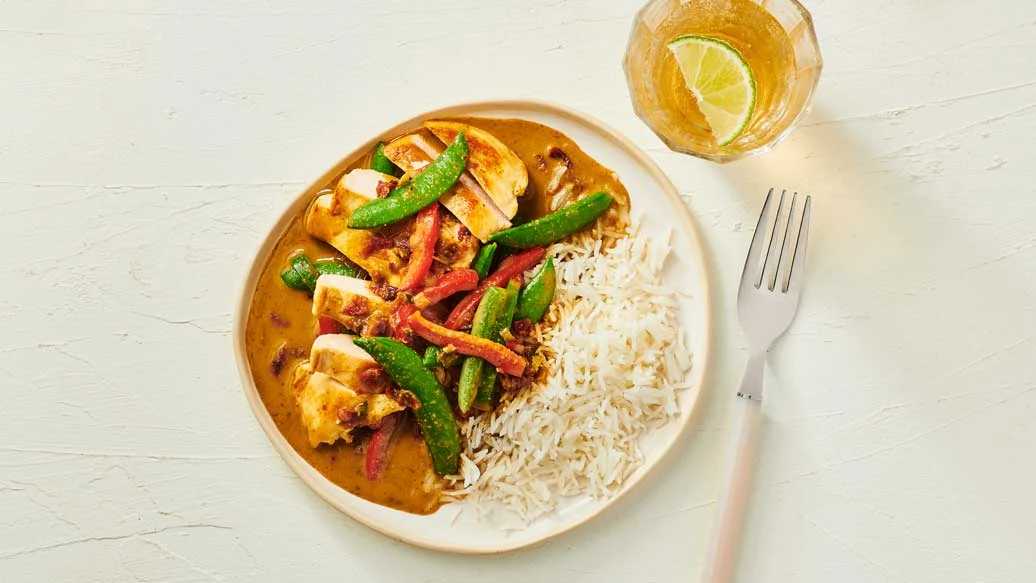 20 min
4 servings
$4.60/serving
Perfectly Balance Your Plate
This is a perfectly balanced plate.
Ingredients
1 cup uncooked jasmine rice or white rice
2 cups water
1 can (14 oz/398 ml) light coconut milk
1 pkg Thai Coconut Soup Seasoning
1 lb (450 g) boneless, skinless chicken breasts, about 2 breasts
Sea Salt, to taste
Black Pepper, to taste
1⁄2 tbsp oil
1 tsp fish sauce, optional
2 bell peppers
2 cups snap peas
1 lime
Toppings (optional): lime zest, toasted coconut
Preparation
In Multipurpose Steamer, combine rice and water. Top with tray; microwave uncovered, on high, 16–18 min, or until tender.  
In bowl, combine coconut milk and seasoning. Set aside.  
To thinly slice chicken, place one hand on one breast and press down firmly. Curve fingers up slightly for safety. Carefully slice meat horizontally. Repeat with remaining chicken. You should have four pieces in total. Season chicken with salt and pepper. 
Heat oil in large sauté pan over medium-high heat. Add chicken to pan; cook 4–5 min per side until golden brown and cooked through. Place on a plate; cover to keep warm.   
In the same pan (don't wash), add coconut milk mixture and fish sauce, if using. Bring to a boil over high heat. 
Meanwhile, slice bell peppers. Trim snap peas. Reduce heat to medium-high, add bell peppers and snap peas. Cook until vegetables are tender-crisp and liquid has reduced slightly, about 2 min.   
Serve chicken over rice; spoon vegetables and sauce on top. Using 2-in-1 Citrus Press, squeeze in juice from lime on top, add additional toppings, if desired.   
Nutritional Information
Per serving: Calories 450, Fat 11 g (Saturated 6 g, Trans 0 g), Cholesterol 85 mg, Sodium 320 mg, Carbohydrate 53 g (Fibre 4 g, Sugars 8 g), Protein 33 g.
Tips
Although fish sauce is optional, it's worth adding to this recipe! It adds a little saltiness and funkiness (it is made from fermented fish after all!). You can usually find it in the international food aisle in the grocery store.