Bali Glazed Skewered Prawns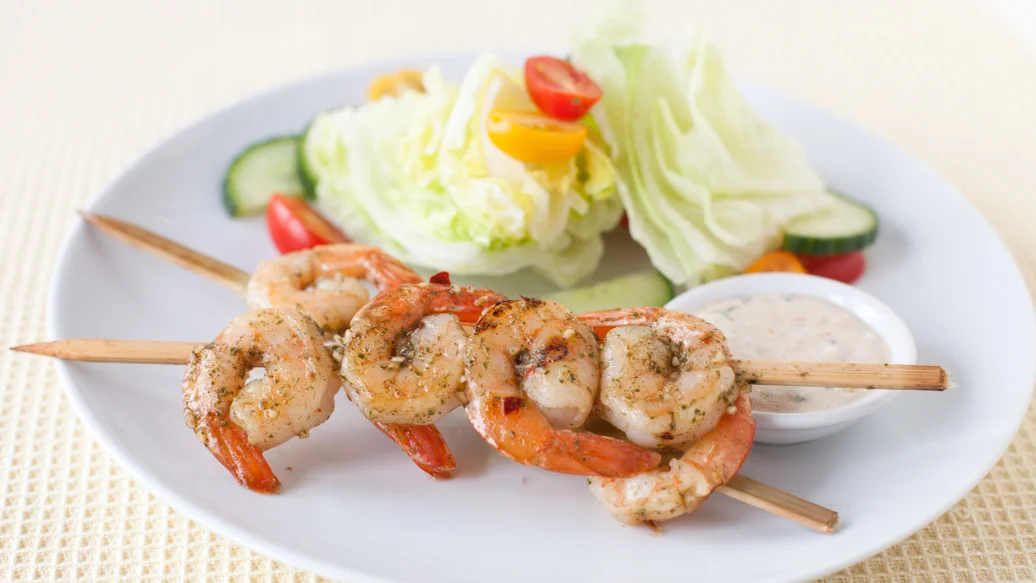 15 min
4 servings
$6.02/serving
Ingredients
1 tbsp olive oil
2⁄3 lb (300 g) prawns, peeled and deveined
bamboo skewers, pre-soaked in water to prevent scorching
lemon or lime juice for finishing, optional
Preparation
Combine Bali Glow Dry Glaze and oil in a resealable bag, add prawns and coat well. Let marinate in fridge for at least 10 minutes and up to 24 hours, or freeze for up to 2 weeks.
Thread prawns onto bamboo or Grill Boss skewers
Preheat grill to medium, and lightly brush with oil to prevent sticking. Place prawns on grill and cook, 2–3 minutes. Turn once and cook another 2 minutes until prawns are just cooked through.
Place prawn skewers onto a large platter, squeeze lemon or lime over top using a 2-in-1 Citrus Press, and serve.
Nutritional Information
Per serving: Calories 110, Fat 4.5 g (Saturated 1 g, Trans 0 g), Cholesterol 120 mg, Sodium 710 mg, Carbohydrate 4 g (Fiber 0 g, Sugars 1 g), Protein 13 g.