Blistered Shrimp Burritos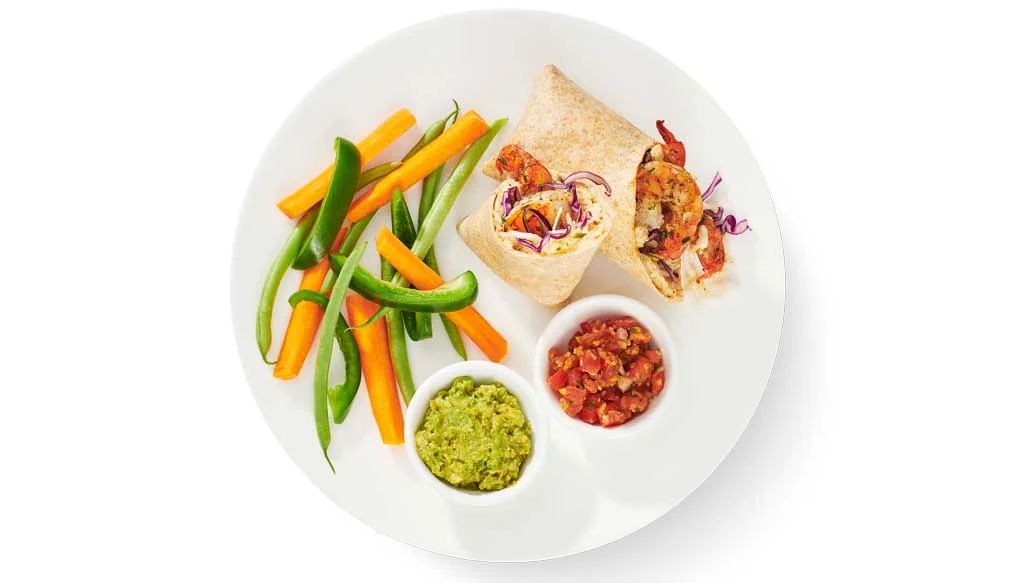 20 min
4 servings
$3.04/serving
The Multipurpose Steamer is a powerhouse kitchen tool! Easily make steamed rice, then mix with our epic Big Burger Sauce. Looking for lower carb? Swap rice with riced cauliflower (find it in the frozen section of the grocery store). 
Perfectly Balance Your Plate
Serve with 1 cup sliced fresh veggies of your choice.
Ingredients
Big Burger Sauce
1⁄4 cup mayonnaise
1⁄2 tbsp Big Burger Sauce Mix
1⁄2 tbsp ketchup
1 tsp relish
Burrito
1 cup uncooked white rice
2 cups water or broth
1 tsp oil
1 bag (340 g) large shrimp, raw, peeled, and deveined
4 cups coleslaw mix
4 large tortillas, preferably whole wheat
Toppings (optional): salsa, guacamole
Preparation
For the sauce, in a bowl combine mayonnaise with sauce mix, ketchup, and relish. Set aside. 
In a Multipurpose Steamer, combine rice and water or broth. Top with tray; microwave uncovered, on high for 16–18 min or until tender. Portion out 2 cups cooked rice and stir in burger sauce. Refrigerate remaining rice (about 1 cup) for use another day. 
While rice cooks, heat oil in Wok set over medium-high heat. Pat shrimp dry, then coat with seasoning. Add to wok; stir-fry until cooked through, about 3–4 min. 
To assemble burritos, divide rice, shrimp, and coleslaw among tortillas; fold in sides and tightly roll. Serve with toppings, if desired. 
Nutritional Information
Per serving (1 burrito with 1/2 cup rice): Calories 360, Fat 7 g (Saturated 1 g, Trans 0 g), Cholesterol 130 mg, Sodium 460 mg, Carbohydrate 53 g (Fiber 5 g, Sugars 4 g), Protein 21 g.
Tips
Grill shrimp on the barbecue. For best results, use a barbecue grill pan to prevent shrimp from falling through the grate.
Place burritos back in Multipurpose Steamer. Sprinkle with 1 cup grated cheese. Cover; microwave on high for 1 min or until cheese melts.