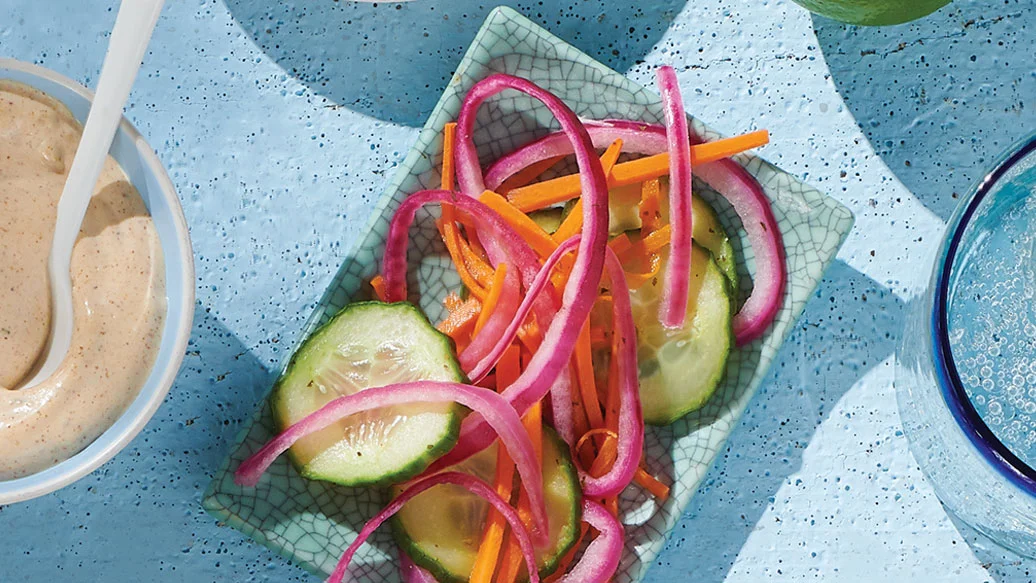 1 hr (including 45 min chilling)
6 servings
$0.50/serving
Regular mealtime routines got you in a pickle? Transform your favourite sandwiches, rice bowls, tacos, or even Sunday roasts into something exciting! This will work with any veggies you choose so don't be afraid to make swaps. DIY pickled veggies help with digestion and have much lower amounts of sodium than what you'd pick up at the store.
Ingredients
1 cup water
1⁄4 cup rice vinegar
2 tbsp white sugar
1⁄2 English cucumber
1⁄2 small red onion
1 cup matchstick carrots
Preparation
Bring water, vinegar, sugar, and seasoning to a boil in Multipurpose Pot.   
Meanwhile, thinly slice cucumber and onion; place in a large bowl with carrots.   
Pour boiling water mixture over vegetables; let cool to room temperature. Cover and refrigerate at least 45 min before serving. 
Pickled veggies will keep for up to 2 weeks in the refrigerator.
Nutritional Information
Per serving: Calories 35, Fat 0.1 g (Saturated 0 g, Trans 0 g), Cholesterol 0 mg, Sodium 170 mg, Carbohydrate 8 g (Fiber 1 g, Sugars 6 g), Protein 1 g.