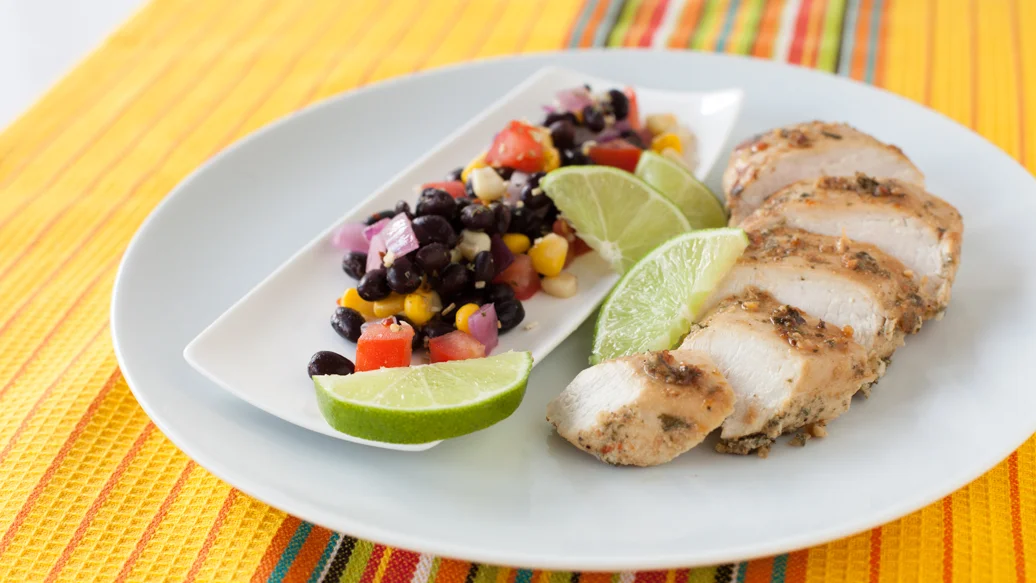 1 hr 30 min
4 - 6 servings
$1.23/serving
Such a simple dish! Serve as is, or slice and wrap in a warm tortilla with black beans, corn, and your favourite cheese.
Ingredients
3 tbsp lime juice
1 tbsp olive or vegetable oil
4 boneless, skinless chicken breasts
Preparation
In a mixing bowl, combine first 4 ingredients. Reserve 1 tbsp of marinade.
In a large baking dish or bowl, coat chicken with remaining marinade. Cover, and refrigerate for 1 hour.
Preheat oven to 375° F (190° C).
In a frying pan, brown chicken over medium heat, turning once, for approximately 5 minutes.
Place pan in the oven, and bake until chicken is cooked through, approximately 10–15 minutes more.
Brush with reserved marinade, and let rest for 5 minutes. Slice, and serve.
Nutritional Information
Per serving: Calories 130, Fat 4.5 g (Saturated 1 g, Trans 0 g), Cholesterol 50 mg, Sodium 180 mg, Carbohydrate 2 g (Fiber 0 g, Sugars 0 g), Protein 18 g.