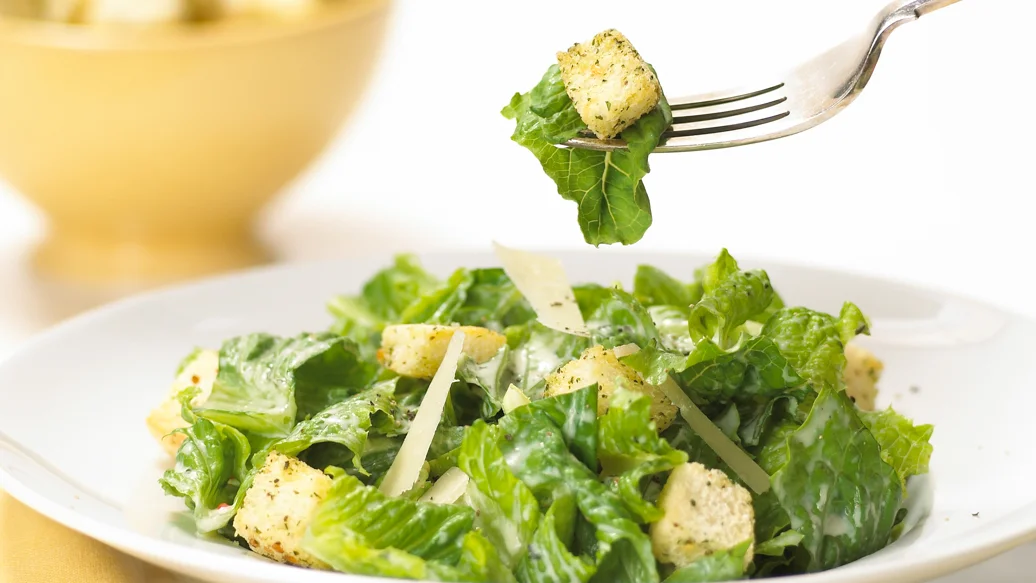 15 min
8 servings
$0.87/serving
All hail Caesar…salad! Crisp romaine, crunchy croutons, and funky parmesan come together with savoury, tangy, garlicky dressing that's known worldwide. It's easy to make at home and healthier than store-bought with less fat, less sodium, and more deliciousness. This isn't a purist's version of a Caesar salad, but it's perfect for a weeknight meal.  
Ingredients
2 tbsp mayonnaise
1 tbsp lemon juice
1⁄4 cup olive oil
1⁄4 cup milk
1⁄4 cup grated Parmesan cheese
Black Pepper, coarsely ground, to taste
12 cups Romaine lettuce, cut into bite-sized pieces
Preparation
Whisk first 7 ingredients in a large serving bowl. Season with Black Pepper.
Add Romaine lettuce and toss to coat.
Stir in croutons and serve.
Nutritional Information
Per serving: Calories 170, Fat 12 g (Saturated 2.5 g, Trans 0 g), Cholesterol 5 mg, Sodium 130 mg, Carbohydrate 11 g (Fiber 2 g, Sugars 3 g), Protein 5 g.
Tips
Lighten Up! Skip the oil and mayo and use instead 1⁄4 cup low-fat yogurt. You'll save 80 calories and 9 g of fat per serving!