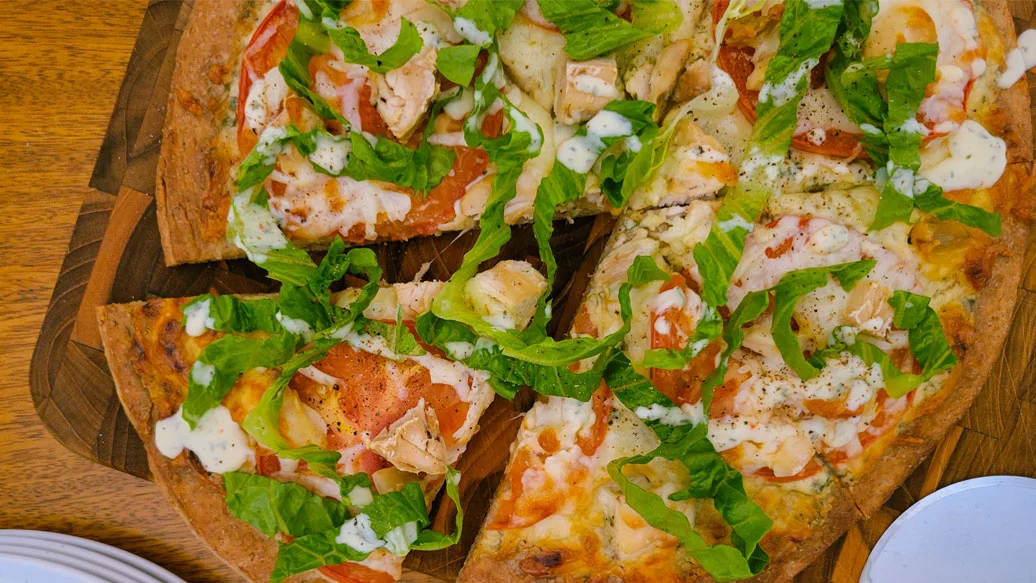 Garlicky, cheesy, creamy white pizza is the answer when you crave Caesar salad and have leftover chicken. Caesar dressing works as a creamy sauce base and zesty crust dipper, too – you're going to want to make extra!  
Perfectly Balance Your Plate
Serve with 1 cup veggie sticks. 
Ingredients
DRESSING
2 tbsp light mayonnaise or plain Greek Yogurt 
1 tbsp lemon juice
1⁄4 cup olive oil
1⁄4 cup milk, your choice
PIZZA
1 prepared pizza crust (11"), preferably whole-wheat
1 large tomato
1 1⁄2 cups cooked, cubed chicken (see Tip)
1 cup grated mozzarella cheese
Toppings (optional): chopped romaine, Better Than Bacon Topper 
Preparation
Preheat oven to 425° F.   
In a bowl, whisk together dressing mix, mayo, lemon juice, oil, and milk.  
Place pizza crust on Sheet Pan lined with Sheet Pan Liner. Thinly slice tomato.   
Spread crust with 1⁄2 cup dressing. Top with tomato, then chicken and cheese.  
Bake for 15 min or until crust is golden and cheese melts.  
Add toppings, if desired, and drizzle with remaining 1⁄4 cup dressing.  
Nutritional Information
Per serving (1/5 pizza): Calories 470, Fat 23 g (Saturated 6 g, Trans 0 g), Cholesterol 60 mg, Sodium 360 mg, Carbohydrate 41 g (Fiber 0 g, Sugars 3 g), Protein 26 g.
Tips
Cook once, eat twice. For a speedy roast chicken, microwave Rotisserie Chicken in the Round Steamer. Ready in 25 minutes! Use up leftovers for pizza, salads, and sandwiches.