Citrus Lime No-Bake Cheesecake Petites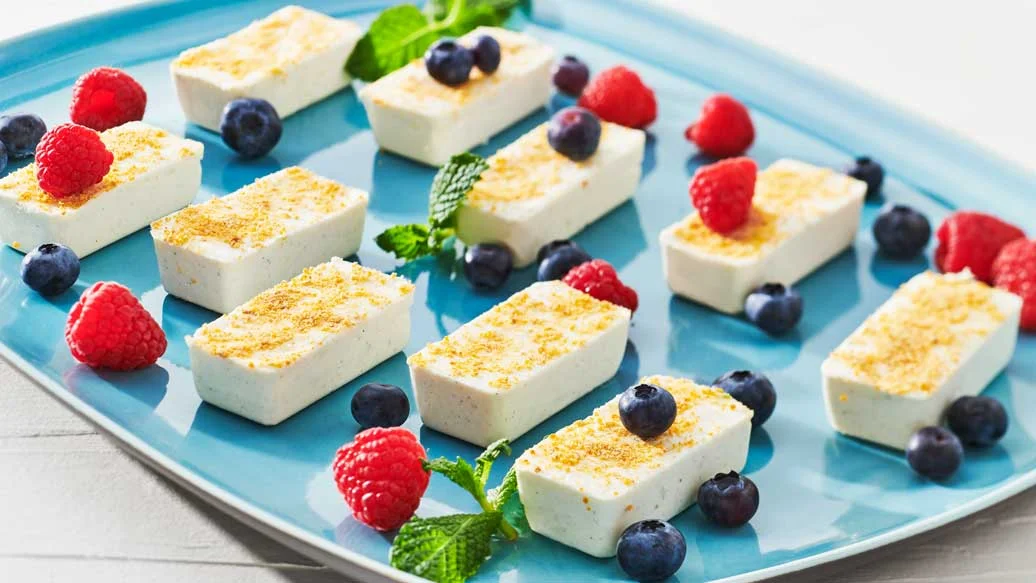 2 hrs 15 min (includes 2 hours freeze time)
30 petites
$0.31/serving
Keep them in the freezer for those sweet cravings or have them ready to impress your guests. Mess-free, no slicing required, thanks to the Perfect Petites, simply pop out and enjoy! Tangy, cool and refreshing, the perfect summer treat. 
Ingredients
1 brick (8 oz/250 g) cream cheese, room temperature
1 lime
1 1⁄2 cups whipping cream
1⁄4 cup graham cracker crumbs
Preparation
Using a stand mixer or hand mixer, beat cream cheese with mix on medium-high speed until smooth.  
Scrape bowl. Using a box grater or microplane, finely grate zest from lime, if desired. Using 2-in-1 Citrus Press, squeeze in juice from zested lime.  
Gradually add cream, whipping until soft peaks form.  
Place Perfect Petites on Sheet Pan. Scrape content from bowl on the pan. Using 3-in-1 Spatula, spread evenly into Perfect Petites, filling the molds.  
Sprinkle graham cracker crumbs on top. Using spatula or your hand, gently press the crumbs so they stick to the filling.   
Freeze 2 hours until set. To remove from molds, simply flip the pan over and gently pop out. If making ahead, store in a large freezer bag or container and keep frozen up to 1 month. Prior to serving, place in the fridge to defrost slightly.   
Nutritional Information
Per serving (1 petite): Calories 80, Fat 7 g (Saturated 4 g, Trans 0 g), Cholesterol 25 mg, Sodium 40 mg, Carbohydrate 6 g (Fiber 0 g, Sugars 4 g), Protein 1 g.
Tips
These petites are best served frozen or semi-frozen. After two hours, they're frozen enough to pop out of the pan easily, but soft enough to enjoy. If kept in the fridge, they will defrost and become very soft. While still tasty, it'll be a bit messy!