Grilled Bali Chicken & Bok Choy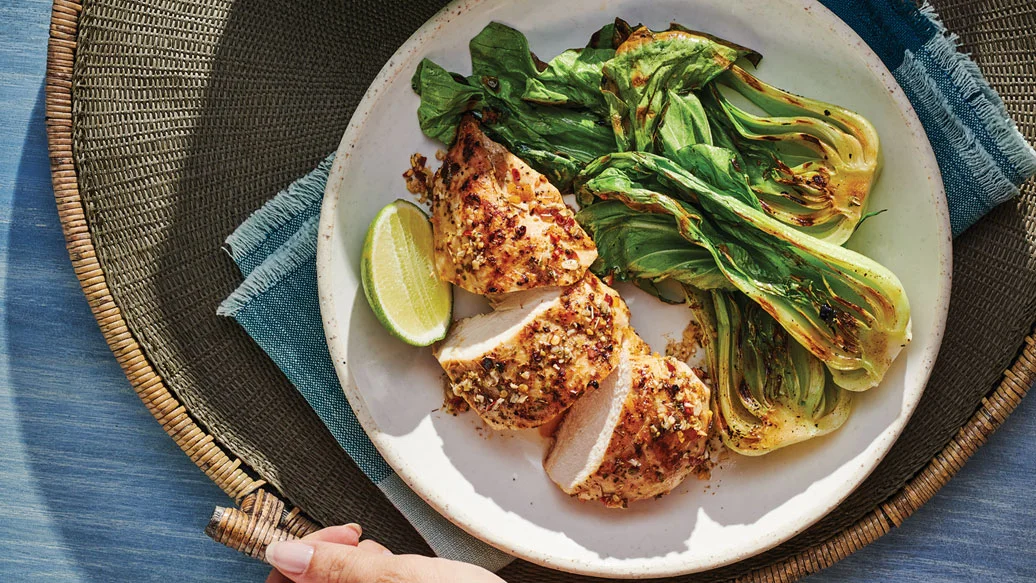 20 min
4 servings
$1.99/serving
Perfectly Balance Your Plate
This is a perfectly balanced plate.
Ingredients
1 cup uncooked white rice
2 cups water or broth
1 lb (450 g) Shanghai bok choy, about 8 heads
2 1⁄2 tbsp oil, divided
1 lb (450 g) boneless, skinless chicken breasts, about 2 breasts
Toppings (optional): lime wedges, sliced red chilies
Preparation
Preheat grill to medium-high heat. Line Sheet Pan with Sheet Pan Liner.
In Multipurpose Steamer, combine rice and water. Top with tray; microwave uncovered on high for 16–18 min, or until tender.
Meanwhile, slice bok choy in half, lengthwise. In a large bowl, combine 1 tbsp dry glaze and 1⁄2 tbsp oil. Add bok choy; stir gently to coat. Place on pan.
In same bowl (don't wash) add remaining 2 tbsp dry glaze and 2 tbsp oil. Add chicken and massage in glaze. Place on pan with bok choy and head to the grill!
Place chicken on grill. Grill with lid closed, about 7–9 min per side, or until cooked all the way through. With 4 min left of cook time, add bok choy to the grill, turning once, until tender-crisp, about 4 min. If you have a small grill, you might have to do this in two batches.
Remove Sheet Pan Liner from pan. Place chicken and bok choy on Sheet Pan.
If you have time, let chicken rest a few minutes. Then, slice each breast into two pieces each.
Divide rice, chicken, and bok choy between four bowls. Add toppings, if desired.
Nutritional Information
Per serving: Calories 430, Fat 14 g (Saturated 1.5 g, Trans 0 g), Cholesterol 65 mg, Sodium 380 mg, Carbohydrate 47 g (Fiber 2 g, Sugars 4 g), Protein 29 g.
Tips
Look for bok choy in the produce section of the grocery store. You might find two varieties: a white-stemmed type, which comes in both a large size and a small size called baby bok choy, and a green-stemmed type called Shanghai bok choy, which comes in a size between baby bok choy and regular bok choy. You can swap these varieties interchangeably in this recipe.