Lemon Dilly Chicken Sliders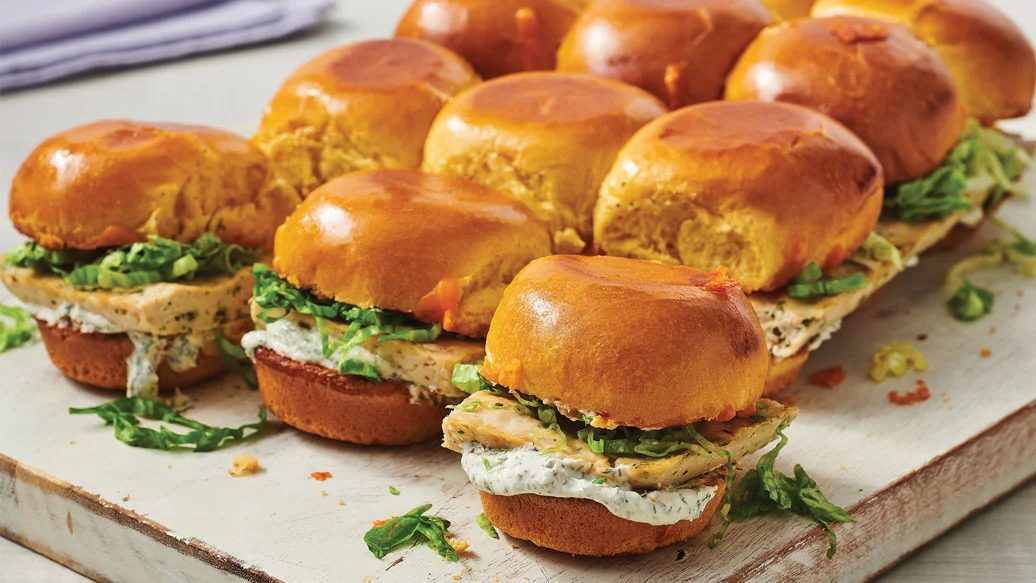 15 minutes
6 servings
$2.03/serving
Bring these tasty sliders to your next gathering! Customize to your crowd: keep half the sliders basic for the kiddos and add fresh veggie toppings to the rest for the adults to enjoy. You can even swap in your favourite Dip Mix to change up the flavour. For a lower-fat dip, prepare dip with Greek yogurt instead of sour cream.
Perfectly Balance Your Plate
Serve with 1 cup chopped veggies.
Ingredients
1 lb (450g) lean ground chicken
12 slider buns or pull-apart dinner rolls
1⁄2 cup grated cheddar cheese
1⁄4 cup mayonnaise
1⁄4 cup plain 2% Greek yogurt or sour cream
Toppings (optional): shredded lettuce, pickles, sliced tomato
Preparation
Preheat oven to 400° F. Line 1⁄4 Sheet Pan with 1⁄4 Sheet Pan Liner. 
In a large bowl, combine chicken and 1 tbsp dip mix. Turn onto pan; press down to flatten to the edges and evenly fill pan. Bake 9–11 min, or until cooked through. 
Meanwhile, without separating rolls, slice them in half lengthwise to form a top and a bottom sheet of bun halves. Place on Sheet Pan, cut side up, and sprinkle cheese over the top half. Bake 5 min, or until slightly toasted and cheese is melted. 
In a medium bowl, combine remaining 3⁄4 tbsp dip mix with mayonnaise and yogurt.   
Spread prepared dip over bottom sheet of bun halves. Carefully cover with cooked chicken and additional toppings, if using. Cover with top sheet of bun halves. Slice along sides of each bun to portion into individual sliders, or serve on a tray to be pulled apart.
Nutritional Information
Per serving (2 sliders): Calories 400, Fat 20 g (Saturated 7 g, Trans 0.2 g), Cholesterol 110 mg, Sodium 380 mg, Carbohydrate 31 g (Fiber 0 g, Sugars 10 g), Protein 22 g.