Maple Pork & Mushroom Sandwich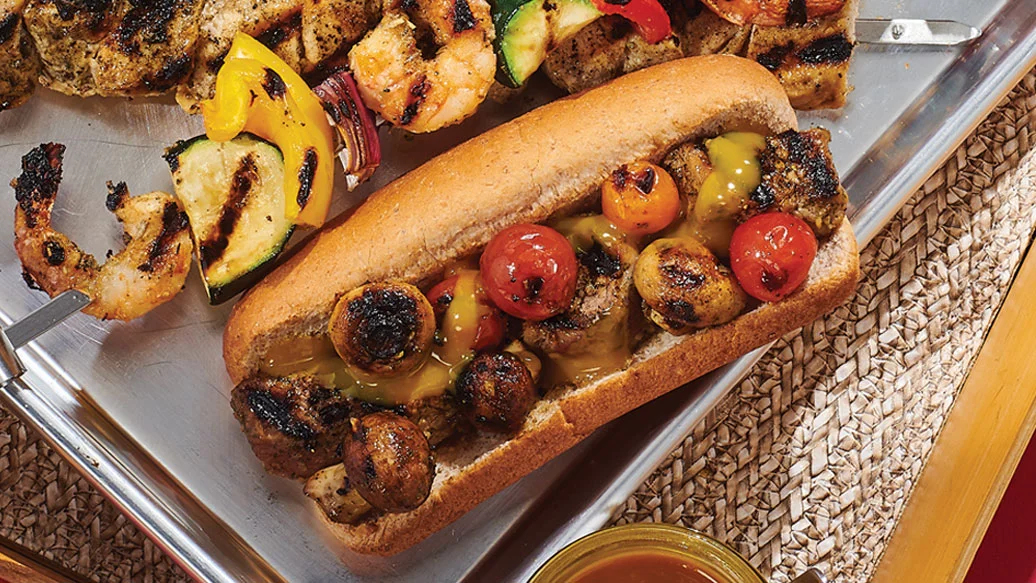 20 min
4 servings
$4.46/serving
Transform ordinary skewers into a mouth-watering BBQ sandwich extravaganza! Picture this: succulent pork tenderloin, sizzling on the grill and infused with the rich, irresistible flavors of sweet maple. And, that's not all! Juicy mushrooms, packed with fiber, protein, and antioxidants give this dish a good nutrition boost.
Perfectly Balance Your Plate
This is a perfectly balanced plate.
Ingredients
1 lb (450 g) pork tenderloin
1 pkg (8 oz/227 g) button mushrooms, about 3 cups
2 cups cherry tomatoes
2 tbsp olive oil + more for brushing
4 whole-wheat hoagie rolls
1⁄4 cup Honey Mustard
Preparation
Preheat grill to medium-high heat. Lightly brush with oil.  
Cut tenderloin in half, lengthwise, and then chop into 1" pieces. Place in a large bowl with mushrooms, tomatoes, oil, and dry glaze; toss to combine.  
Thread pork and veggies onto Grill Boss Skewers.  
Grill, with lid closed, 4–5 min per side, or until pork reaches desired doneness (4 min per side for medium or 5 min per side for well done). 
Split and toast rolls, if desired. To serve, slide meat and veggies from skewers, then divide between rolls. Drizzle with honey mustard.
Nutritional Information
Per serving: Calories 490, Fat 18 g (Saturated 4.5 g, Trans 0 g), Cholesterol 65 mg, Sodium 490 mg, Carbohydrate 53 g (Fiber 5 g, Sugars 18 g), Protein 28 g.