Montreal Steak Salad Bowl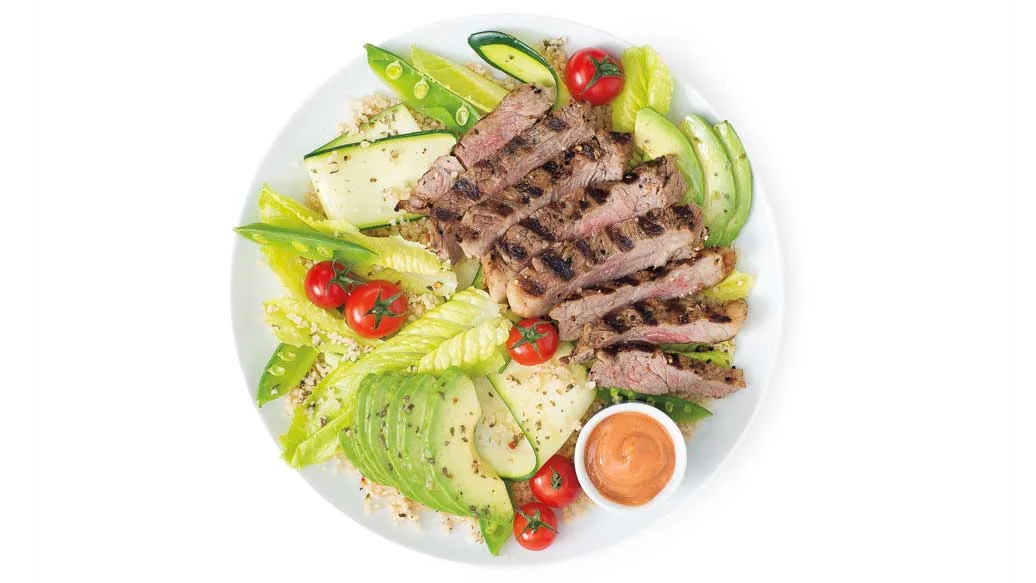 Perfectly Balance Your Plate
This is a perfectly balanced meal.
Ingredients
1 cup uncooked quinoa or couscous
12 oz (340 g) strip loin steak, about 2 steaks
3 tbsp Montreal Steak Rub
2 tbsp 2% plain Greek yogurt
4 cups mixed greens
8 cups mixed veggies
Veggie Suggestions: sliced avocado, halved cherry tomatoes, sugar snap peas, zucchini ribbons
Preparation
Preheat grill to medium-high.
Place quinoa in Multipurpose Steamer with 2 cups water. Cover; microwave on high, 12–15 min.
Meanwhile, rub steaks with steak rub.
Place on grill; close lid and grill until steaks are desired doneness, about 3–5 min per side for medium-rare. Remove from heat and let stand 5 min before slicing.
Meanwhile, in bowl, stir prepared Smokin' BBQ Sauce with yogurt. In separate bowl, combine quinoa with prepared Pesto Sauce.
Arrange greens, quinoa, and mixed veggies in bowls; top with sliced steak and spoon BBQ Sauce on top.
Nutritional Information
Per serving: Calories 440, Fat 20 g (Saturated 6 g, Trans 0 g), Cholesterol 70 mg, Sodium 730 mg, Carbohydrate 40 g (Fiber 8 g, Sugars 10 g), Protein 26 g.
Tips
Swap beef steaks for 2—350 g pkgs extra firm tofu, sliced into thick steaks.