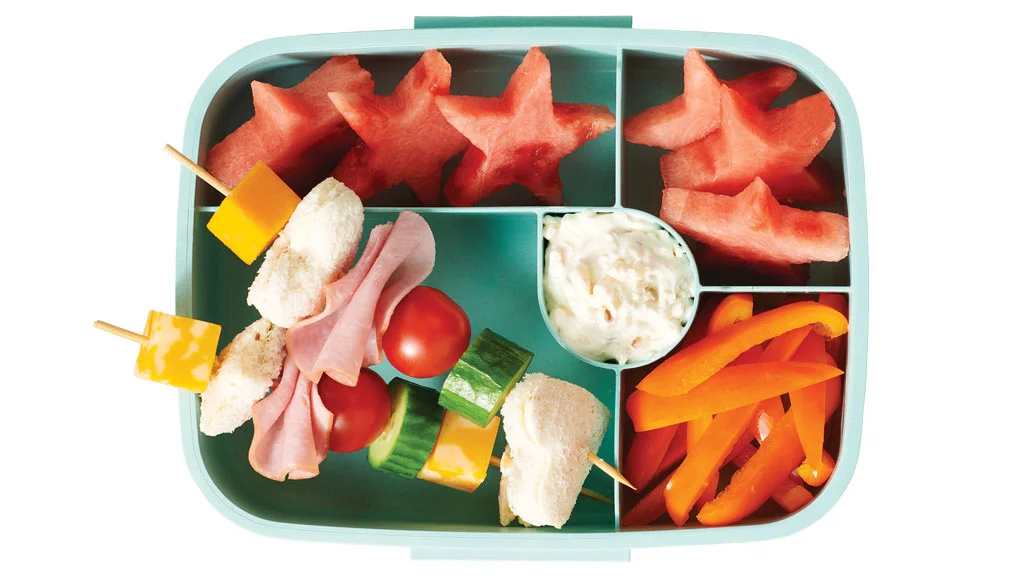 10 min
4 servings
$2.33/serving
Assemble a fun sandwich on a stick—it's a guaranteed way to get them eating their lunch! Include a creamy dip like 3 Onion or Lemon Dilly.
Ingredients
1⁄4 cup cream cheese, softened
4 slices bread
1⁄2 English cucumber
2 oz (60 g) cheddar cheese
8 slices deli meat, your choice
1 cup cherry tomatoes
Preparation
In a small bowl, combine softened cream cheese and dip mix. Spread over two of the bread slices and top each slice with another slice to make a sandwich. Slice each sandwich into 1" cubes. 
Slice cucumber into rounds. Cut cheese into 1⁄2" cubes; you should have about 1⁄2 cup. Fold deli meat into quarters.
Thread sandwich cubes, cucumber rounds, cheese cubes, folded deli meat, and tomatoes evenly between eight small wooden skewers.
Nutritional Information
Per serving (2 skewers): Calories 230, Fat 11 g (Saturated 6 g, Trans 0 g), Cholesterol 45 mg, Sodium 560 mg, Carbohydrate 17 g (Fiber 1 g, Sugars 3 g), Protein 14 g.
Tips
Use small cookie cutters to cut your bread, cheese, and veggies into fun shapes.
Use this recipe as a guide for any type of sandwich, like a classic PB&J served with fruit or a deconstructed club sandwich.
Swap cubed bread for pita wedges.