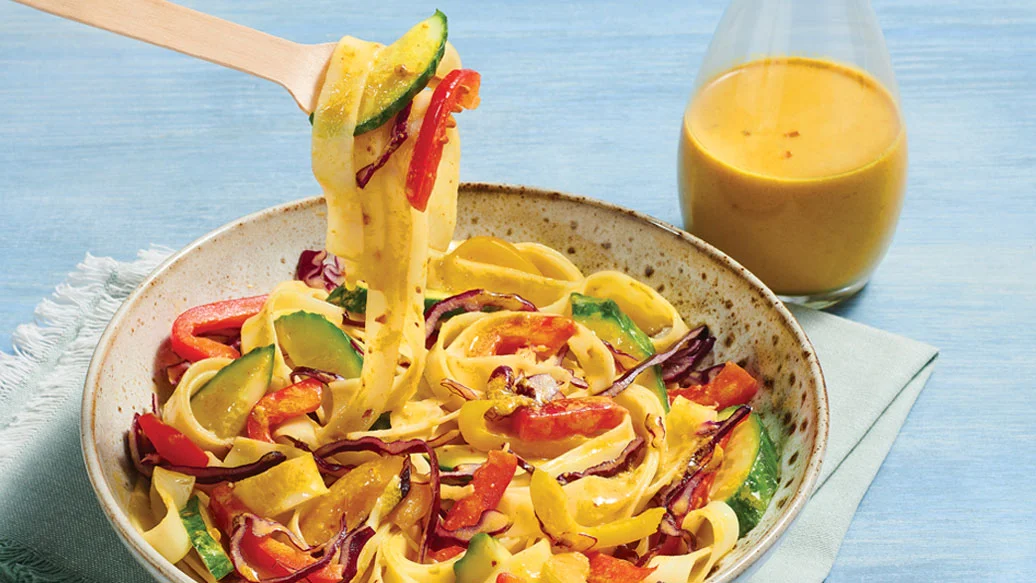 10 min
4 servings
$1.10/serving
Noodle this! Create a dairy-free, creamy, tangy dressing that will go with any noodle, salad green, or grain to banish salad boredom. Made with nutritional yeast, our Sesame Noodle Salad Dressing Mix delivers a big fist bump of umami-rich flavour while dropping a bomb of B vitamins to boost your energy levels and brain power.
Perfectly Balance Your Plate
Serve with 4 oz (113 g) lean protein.
Ingredients
1⁄2 lb (225 g/8 oz) uncooked noodles, such as fettuccine, rice or buckwheat
1 1⁄2 tbsp apple cider vinegar
1 tbsp water
1 tsp Dijon mustard
1⁄4 cup oil
2 tsp sesame oil
4 cups chopped vegetables, your choice
Preparation
Cook noodles in Multipurpose Pot according to package directions. Drain. 
Meanwhile, in a large bowl, whisk dressing mix with vinegar and water. Whisk in mustard. Slowly whisk in oil and sesame oil. 
Toss noodles and vegetables with dressing to combine.
Nutritional Information
Per serving: Calories 390, Fat 17 g (Saturated 1.5 g, Trans 0 g), Cholesterol 0 mg, Sodium 280 mg, Carbohydrate 52 g (Fiber 3 g, Sugars 2 g), Protein 7 g.
Tips
Whisk dressing in no time with Air Wand!
This recipe is free from common allergens like dairy, nuts, soy, and eggs. If you're allergic to mustard, swap it with honey or mayo, or omit it completely.