Sylvie's Favourite Grilled Vegetable Pizza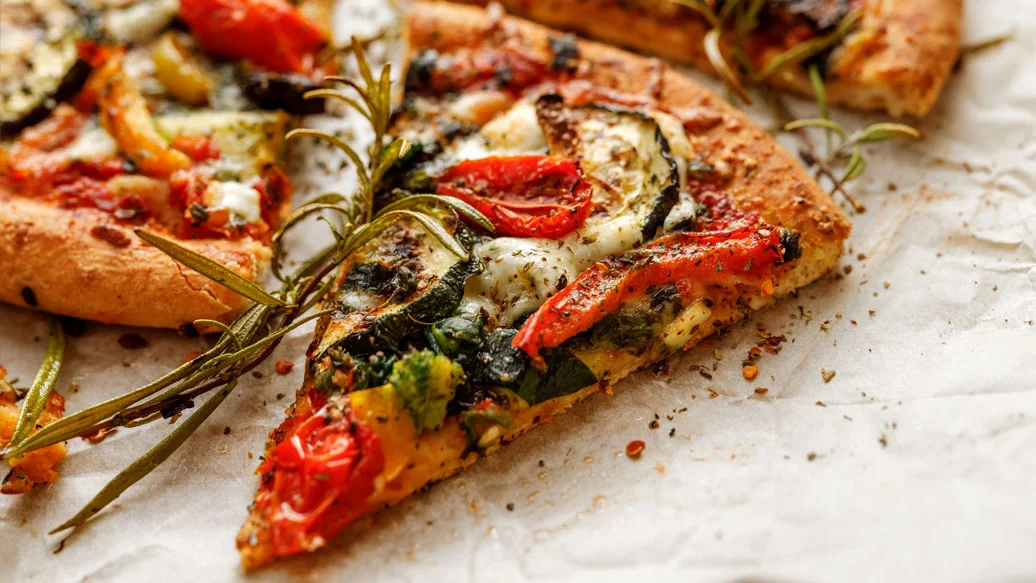 30 min
12 servings
$1.16/serving
You can add extra toppings, such as sliced ham or grated buffalo mozzarella cheese.
Ingredients
CRUST
SAUCE
1 can (19 oz/540 ml) crushed tomatoes
TOPPINGS
1 cup feta cheese, cubed, or to taste
3 tbsp olive oil, divided
1 green bell pepper, cut into thick strips
1 red bell pepper, cut into thick strips
2 zucchinis, cut into thick strips
1 eggplant, cubed
1 onion, cut into thick strips
2 - 3 whole garlic cloves, to taste
Sea Salt, to taste
Black Pepper, to taste
Preparation
If using Epicure Basic Pizza Dough, form into 2 — 14" pizza shells and set aside.
Preheat grill to medium-high. To roast vegetables, preheat oven to 450° F (230° C).
For the sauce, mix together tomatoes and Seasoning. Set aside.
In a small bowl, drizzle feta with 1 tbsp oil. Set aside.
In a separate bowl, toss vegetables, garlic and seasonings with 2 tbsp oil. Grill in rectangular mesh grilling pan for 3 minutes, then turn and continue cooking to lightly char. To roast, bake on parchment-lined Sheet Pan for 20 minutes, or until peppers are lightly charred..
Grill Basic Pizza Dough shells over medium-high heat with lid closed for 3–5 minutes, turning often, until puffy. Alternatively, grill store-bought shells for about 30–45 seconds, until golden with grill marks on bottom.
Remove shells from grill. Spread with sauce and top with vegetables and feta.
Return to barbecue and grill for about 1 minute, until cheese softens. Slice into wedges and serve.
Nutritional Information
Per serving: Calories 230, Fat 9 g (Saturated 3 g, Trans 0 g), Cholesterol 10 mg, Sodium 330 mg, Carbohydrate 32 g (Fiber 4 g, Sugars 3 g), Protein 7 g.
Tips
Other delicious vegetables to grill include mushrooms,  asparagus, and even green onions. 
Chef Tip: Make a big batch of grilled vegetables and enjoy for a few days as a side dish, in quiches, on salads and pastas, or to make rustic grilled sandwiches.