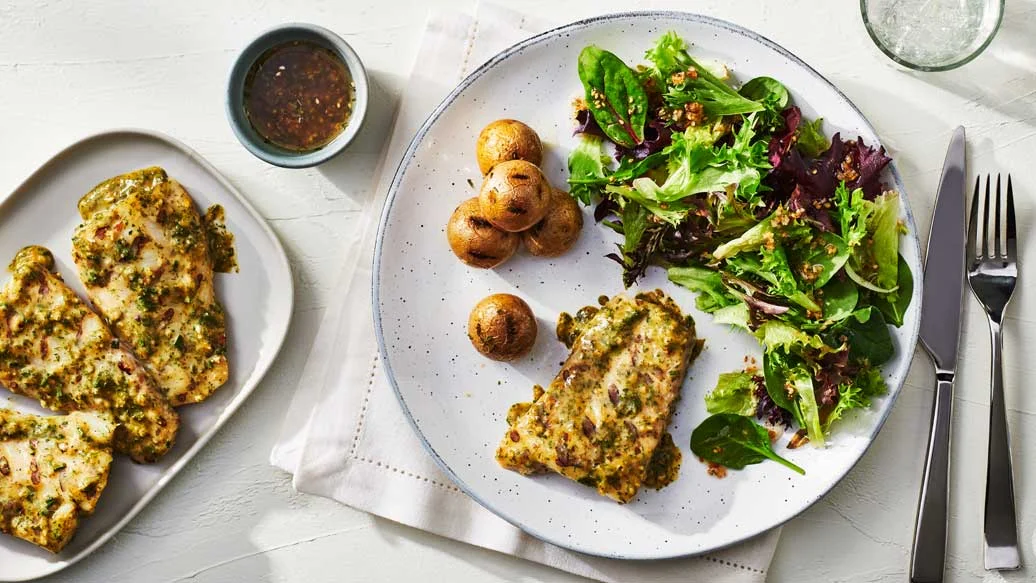 15 min
4 servings
$3.68/serving
A delectable way to enjoy fish, an amazing source of lean protein! This recipe is a West Coast take on a honey mustard sauce – bright lemon, dill-licious dill, sweet honey and bold mustard make this grilled fish irresistible. Keep the sauce in your back pocket for other grilled proteins like chicken or pork.  
Perfectly Balance Your Plate
Serve with 1 cup grilled potatoes, 2 cups mixed greens, and 1 tbsp Epicure Dressing, your choice. 
Ingredients
3 tbsp Dijon mustard
2 tbsp honey
4 - 4 oz (113 g) skinless fish fillets such as cod, snapper, or salmon, about 1" thick
2 tsp oil
Sea Salt, to taste
Black Pepper, to taste
Preparation
Preheat grill to medium heat. 
Meanwhile, in a small bowl, whisk together mustard, honey, and seasoning. It will be a thick sauce.  
Rub fish with oil, season with salt and pepper. Spread top with about 1⁄3 of the sauce. Place on grill, non-sauced side down. Barbecue, with lid closed, 2–3 min.  
Gently flip and spread the other side with another 1⁄3 of the sauce. Barbecue 2–3 min.  
Flip once more and spread remaining sauce on top. Grill an additional 1–2 min, until desired doneness. 
Nutritional Information
Per serving: Calories 150, Fat 3 g (Saturated 0.3 g, Trans 0 g), Cholesterol 50 mg, Sodium 290 mg, Carbohydrate 11 g (Fiber 0 g, Sugars 8 g), Protein 20 g.
Tips
Don't let grilling fish intimidate you! Fish is delicate, start with a clean grill to prevent sticking and make sure to choose fish fillets that are at least 1" thick. Firm fleshed fish like salmon, trout, cod, or snapper are excellent choices.