Butter Chicken Cauliflower Sandwich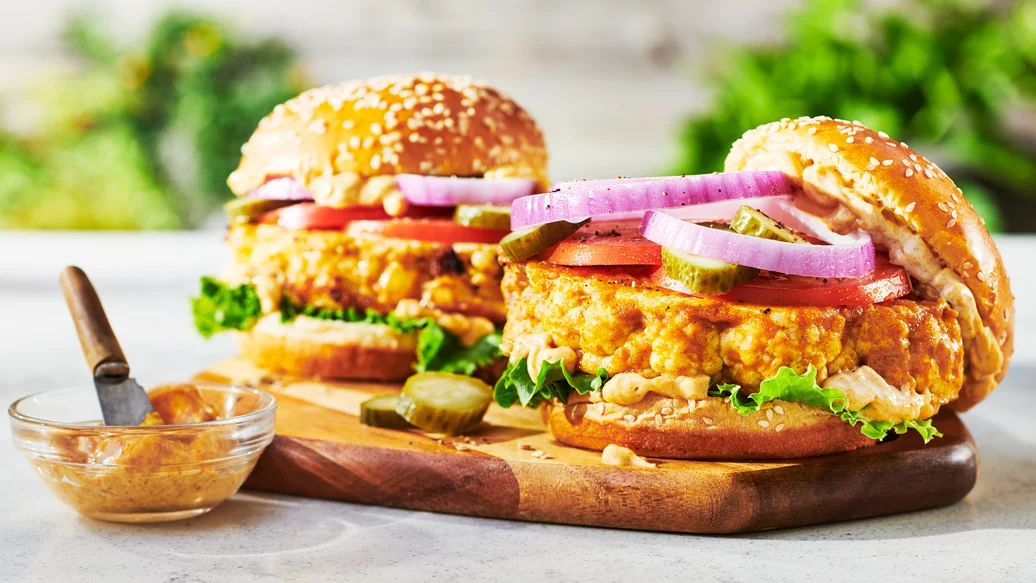 30 min
4 servings
$3.36/serving
Cauliflower took kitchens all over the world by storm––from pizza crust, to rice, and steaks, there wasn't any food that it couldn't impersonate. While it's time in the spotlight has certainly faded, we're big fans of putting a veggie center stage on our plates. Tucked between burger buns and covered in the bold and luscious flavours inspired from the ever-so-popular Butter Chicken, this meal will delight meat and plant eaters alike! 
Perfectly Balance Your Plate
Serve with 1⁄2 cup Simply Better Baked Beans or beans of your choice.
Ingredients
1 large head cauliflower, about 7"
1⁄4 cup vegan mayonnaise
1 tbsp lime juice
3⁄4 cup all-purpose flour or gluten-free flour
1 cup water
1⁄2 cup soy milk or other non-dairy milk, your choice
2 tbsp oil, divided
4 buns, toasted
Toppings (optional): sliced tomatoes, pickles, red onion rings, lettuce
Preparation
Remove leaves from cauliflower. Trim stem, leaving the core intact. Using a large knife, cut cauliflower vertically, into four 1" thick slices. Save remaining florets for use at a later date.  Place slices in Round Steamer or Multipurpose Steamer; cover, and microwave on high 1–2 min or until just tender-crisp. Remove from steamer, and pat dry.  
In a small bowl, measure out 1 tsp seasoning; combine with mayonnaise and lime juice. Set aside.  
In a shallow bowl or pie plate large enough to fit the cauliflower slices, whisk together remaining seasoning, flour, water, and milk. Using your hands, dredge the cauliflower slices in the mixture, making sure to coat all sides and the crevices.  
In Sauté Pan, heat 1 tbsp oil over medium-high heat. Add two cauliflower slices; cook 6–8 min, turning once, until golden-brown.  Remove from pan. Heat remaining 1 tbsp oil and repeat process with remaining cauliflower slices.  
To assemble, spread sauce on both sides of buns, add cauliflower on bottom bun, then add your favourite toppings and cover.  
Nutritional Information
Per serving: Calories 440, Fat 21 g (Saturated 2.5 g, Trans 0 g), Cholesterol 0 mg, Sodium 430 mg, Carbohydrate 55 g (Fibre 10 g, Sugars 9 g), Protein 12 g.
Tips
Use two smaller cauliflower heads if you can't find a large one at the store.  
Use leftover cauliflower florets in smoothies or add to your next sheet pan meal.  
Sprinkle cauliflower steaks with Butter Chicken Seasoning and grill outdoors!