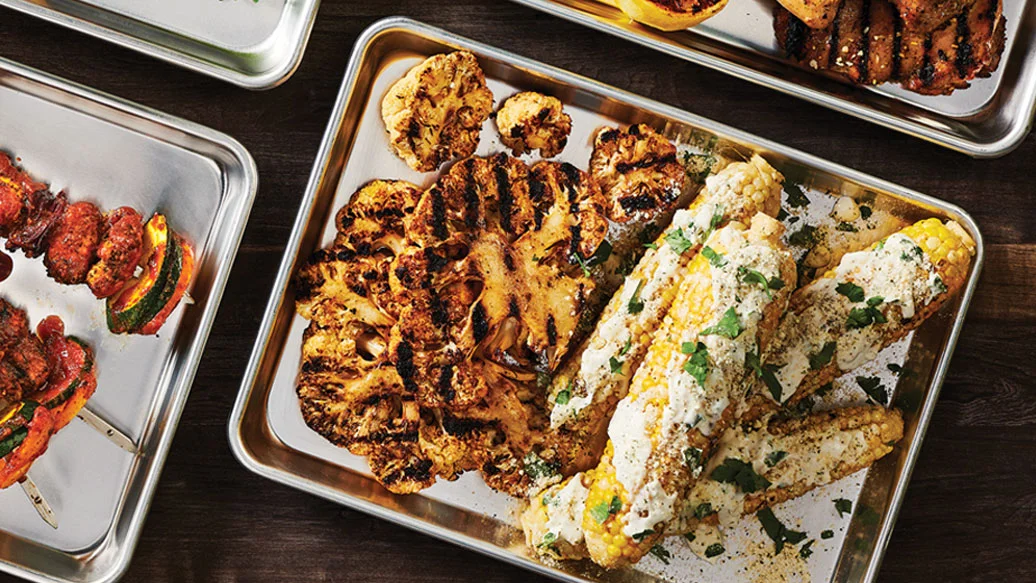 16 min
6 servings
$1.68/serving
Who said a steak must be meat? A steak's pleasure is the thickness of the cut. Get your cruciferous game face on and swap beef for cauliflower as a main course or side dish. Cauliflower is high in fibre—one serving provides 4 grams. More fibre in your diet means a happy digestive system.
Perfectly Balance Your Plate
Serve with 4 oz (113 g) lean protein and 1⁄2 cup quinoa or rice. 
Ingredients
2 medium cauliflower heads
1⁄4 cup olive oil
Preparation
Preheat grill to medium-high.  
Remove leaves from cauliflower. Trim stem, leaving the core intact. Using a large knife, cut each cauliflower vertically into three, 1 1⁄2–2" thick steaks. Place on Sheet Pan. (Save any florets that crumble off to use another day—they're great in salads!).
In a small bowl, whisk olive oil with seasoning. Using Basting Brush, brush half of oil mixture over tops of steaks.
Grill steaks, seasoned sides down with lid closed, 5 min. Brush the tops with remaining seasoning mixture and then flip steaks. Cook for another 5 min, or until lightly charred and tender.
Nutritional Information
Per serving: Calories 140, Fat 10 g (Saturated 1.5 g, Trans 0 g), Cholesterol 0 mg, Sodium 360 mg, Carbohydrate 11 g (Fibre 4 g, Sugars 4 g), Protein 4 g.
Tips
No grill? No problem! Roast cauliflower steaks in preheated 400° F oven on Sheet Pan with Cooling Racks for 25–28 min, or until tender.
Make sure that some of the stem remains intact for each cauliflower steak so the steaks do not fall apart on the grill.