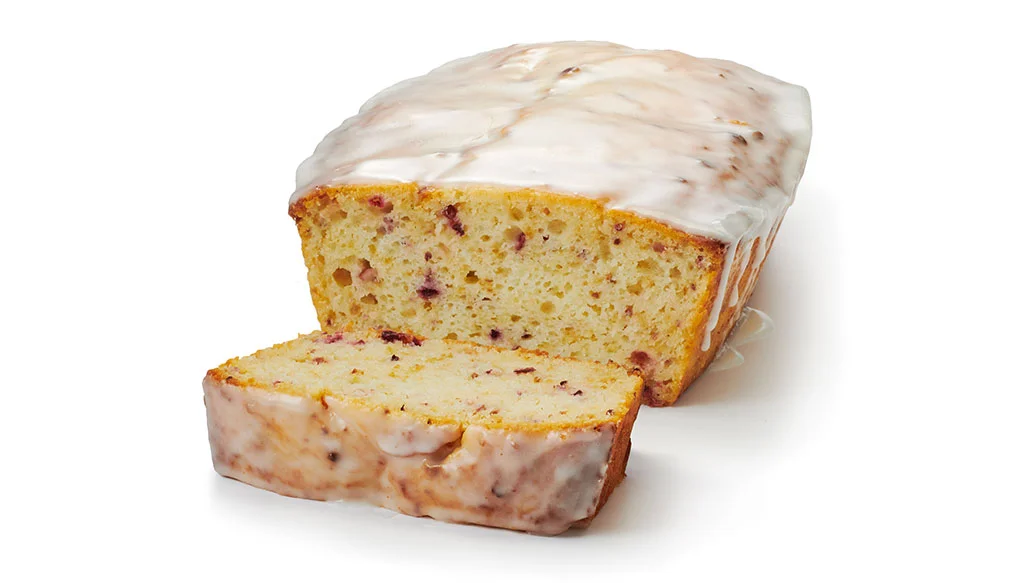 18 min
1 loaf (8–12 servings)
$0.66/serving
Don't get us "tarted" with this irresistible dessert! Real lemon paired with sprinkles of real cranberries are a match made in dessert heaven. This loaf is moist 'n tangy, with the perfect touch of sweetness. Say goodbye to overpriced coffee shop treats and hello to affordable indulgence ($0.66 per serving vs $3.25 at Starbucks!). Did we forget to mention that these can be made in the microwave in under 10 min? Perfect for last minute bake sale goodies!
Ingredients
3 eggs
3⁄4 cup 2% plain Greek yogurt
1⁄2 cup oil + more for brushing
1⁄3 cup icing sugar
1 tbsp lemon juice
Preparation
Lightly oil Rectangular Steamer with Basting Brush.
In a large bowl, whisk together eggs, yogurt, and oil. Stir in mix. Scrape batter into steamer.
Cook in microwave* 8 min on power level 8, uncovered. Rest in steamer for 6 min; invert onto Cooling Rack to cool. Or, bake in preheated 350° F oven for 45 min. Cool in pan 10 min, then unmold.
To make glaze, mix icing sugar with lemon juice. Drizzle over warm loaf.
Nutritional Information
Per serving: Calories 180, Fat 11 g (Saturated 1 g, Trans 0 g), Cholesterol 50 mg, Sodium 125 mg, Carbohydrate 20 g (Fibre 0 g, Sugars 12 g), Protein 3 g.
Tips
*Cooking time may vary based on microwave wattage. Tastes best when eaten the same day.
If using Mini Loaf Pans, microwave for 3 min on high, uncovered. Rest in pans for 2 min; invert onto wire rack to cool. Or bake in preheated 350° F oven, 21–23 min. Cool in pans 10 min; unmold.