Garlicky Spinach & Feta Egg Bites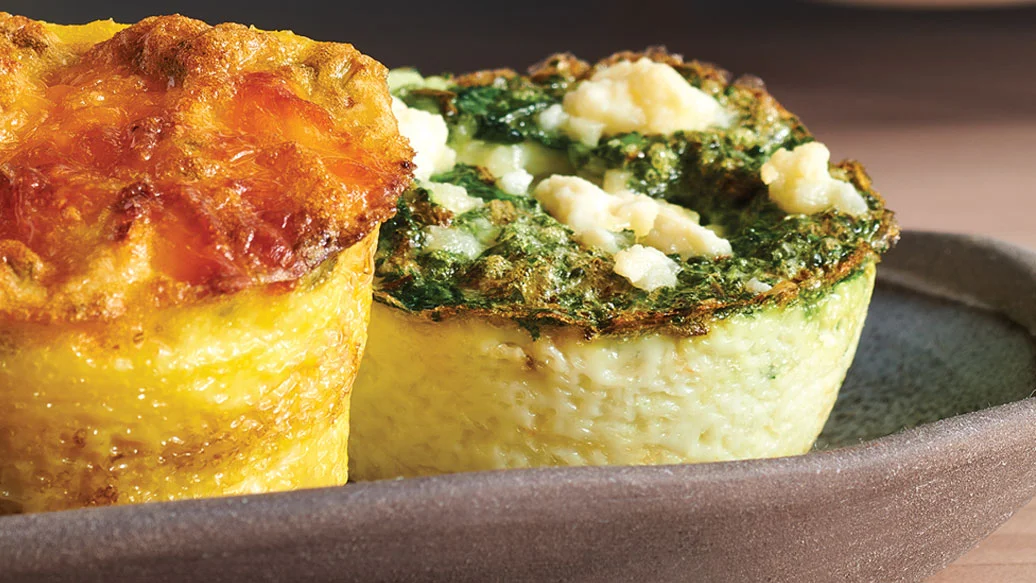 20 min
6 servings
$1.08/serving
Start your day with some herby, garlicky deliciousness! These 4-ingredient bites are made in the microwave for easy mornings, and are part of a light yet filling breakfast that will have you feeling great all morning. Or, add a couple egg bites to salads to get an extra boost of protein at lunchtime. Egg whites provide the protein you want from eggs but are lower in calories, fat, and cholesterol.
Perfectly Balance Your Plate
Serve with 1 cup berries and 2 slices of whole grain toast with 2 tsp nut butter.
Ingredients
2 cups baby spinach
1⁄4 cup feta cheese, crumbled
1 carton (500 ml/20 oz) egg whites
Preparation
Chop spinach. Divide spinach and feta between Muffin Maker cavities. Sprinkle 1⁄4 tsp dip mix into each well.
Divide egg whites between cavities. Gently press the spinach down.
Microwave one Muffin Maker at a time on high for 3–4 min, or until eggs are set.
Rest 3 min, then pop out egg bites. If making ahead, refrigerate for up to 5 days, or freeze up to 1 month.
Nutritional Information
Per serving (2 egg bites): Calories 70, Fat 1.5 g (Saturated 1 g, Trans 0 g), Cholesterol 5 mg, Sodium 240 mg, Carbohydrate 3 g (Fibre 1 g, Sugars 1 g), Protein 10 g.
Tips
If storing in the freezer, reheat by first defrosting in the fridge overnight, and then microwaving for 20 sec on high until warmed through. Or, place in a toaster oven and bake at 350° F for 10 min.