Grilled Adobo Pork Tenderloin with Barbecued Sweet Potatoes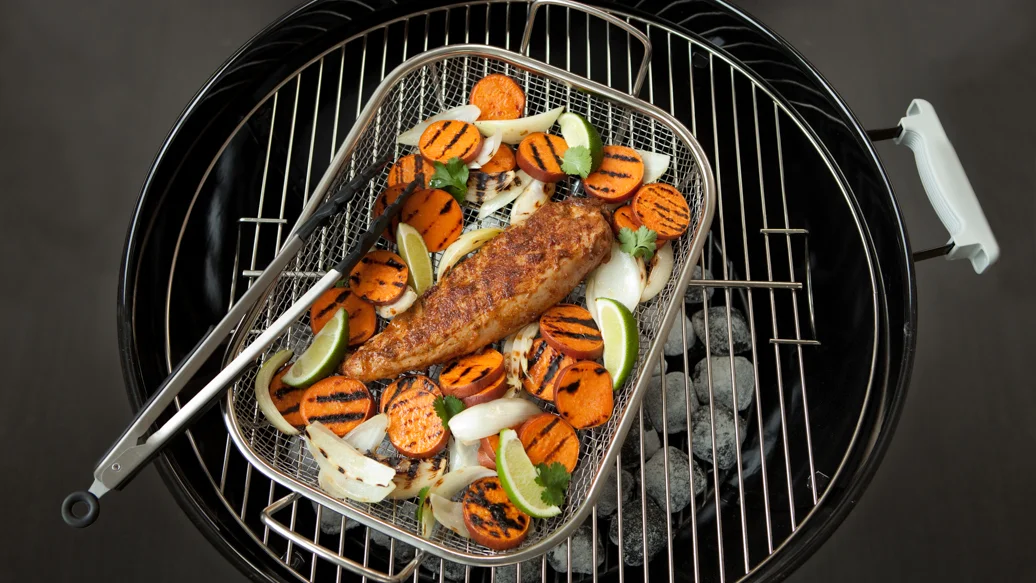 45 min
4 - 6 servings
$1.90/serving
Grilled smoky flavour makes this one-pan dinner a winner for an easy weeknight grill or weekend backyard barbecue.
Ingredients
1 (1 1⁄2 - 2 lb) pork tenderloin, trimmed
1 tbsp oil
2 tbsp BBQ Sauce Mix
3 sweet potatoes, cut in 1/4" rounds
1 medium onion, cut into 6 wedges
2 tbsp olive oil
ADOBO SAUCE
1 tbsp adobo seasoning
2 tbsp cider vinegar
2 tbsp olive oil
1 tbsp tomato paste or ketchup
1 tbsp honey
1 lime, optional
Preparation
Rub tenderloin with oil and Barbecue Seasoning and let marinate at room temperature while preparing the Adobo Sauce and vegetables.
In a small bowl, whisk ingredients for the Adobo Sauce and set aside.
Preheat barbecue to medium-high.
Toss vegetables with oil and SPG Seasoning. Place in a rectangular mesh grilling pan and grill for 10 minutes, shaking pan frequently during cooking.
Place marinated tenderloin directly on grill. Using Grip & Grab, sear tenderloin for 1 minute on each side.
Transfer tenderloin to Grilling Pan with the vegetables. Grill for 20–25 minutes, turning once. Ten minutes before tenderloin is cooked, using basting brush, baste with Adobo Sauce and continue to baste often until tenderloin reaches an internal temperature 160° F (71° C) and potatoes are fork-tender.
Allow meat to rest for 3–5 minutes before slicing. Serve with fresh lime wedges.
Nutritional Information
Per serving: Calories 400, Fat 17 g (Saturated 4 g, Trans 0 g), Cholesterol 90 mg, Sodium 250 mg, Carbohydrate 26 g (Fibre 4 g, Sugars 10 g), Protein 35 g.