Grilled Corn and Potato Wedges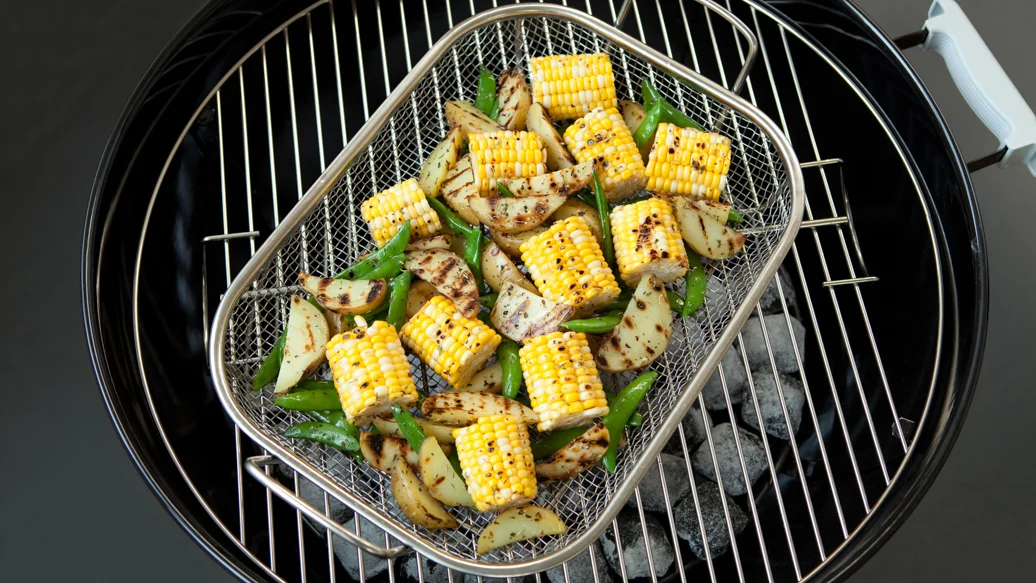 35 min
4 - 6 servings
$2.70/serving
A great way to cook starch and vegetables all in one dish – less mess!
Ingredients
2 tbsp olive oil
4 potatoes, scrubbed and cut into medium wedges
Sea Salt, to taste
Black Pepper, to taste
1⁄4 cup butter, at room temperature
2 tbsp Honey Mustard
3 ears of corn, husked and each cut into 3 pieces
1 pkg (8 oz/ 227 g) snow peas
Preparation
In a large mixing bowl, whisk oil and 2 tbsp BBQ Chicken & Rib Rub. Add potato and toss to coat. Season with Sea Salt and Pepper.
In a small bowl, blend butter, remaining BBQ Chicken & Rib Rub and Honey Mustard. Set aside.
Preheat barbecue to medium-high.
Place potatoes and corn in a rectangular mesh grilling pan and grill for 10 minutes, turning with Grip & Grab and shaking pan often. Add peas and grill until potatoes and corn are cooked through and lightly charred, 20–25 minutes total.
Using basting brush, brush corn with Honey Mustard Butter and serve.
Nutritional Information
Per serving: Calories 540, Fat 8 g (Saturated 8 g, Trans 0 g), Cholesterol 30 mg, Sodium 230 mg, Carbohydrate 84 g (Fibre 10 g, Sugars 8 g), Protein 12 g.