Mushroom Lentil & Bean Stew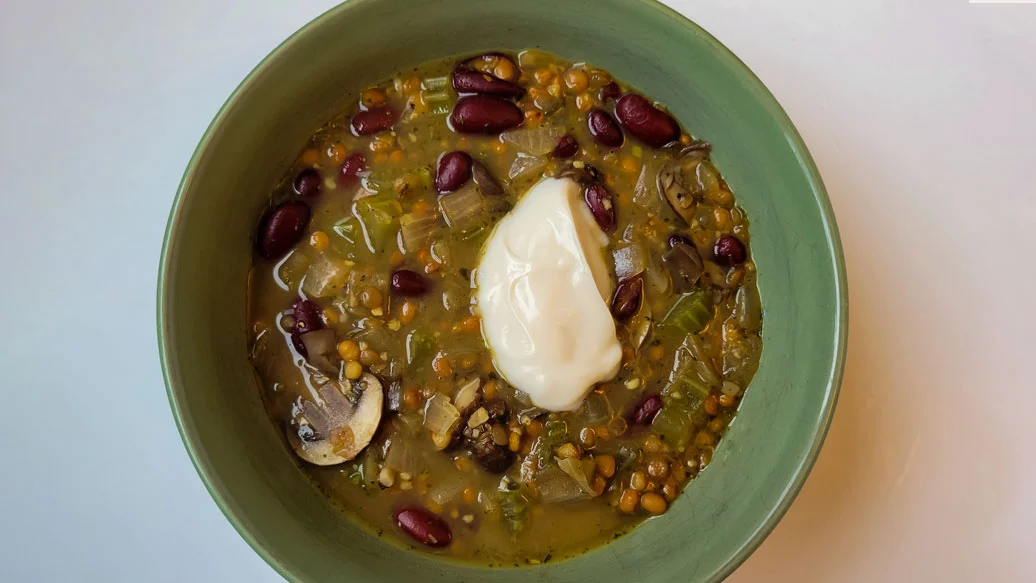 20 min
4 servings
$3.46/serving
Prepare Vegetable Broth ahead of time. Make a big batch of broth to use for cooking soups, sauces, and grains, like rice or quinoa.
Perfectly Balance Your Plate
Serve with 2 cups leafy greens and 1 tbsp of your favourite Epicure Salad Dressing. 
Ingredients
3 stalks celery
2 tbsp oil
3 cups sliced mushrooms
1 can (19 oz/540 ml) lentils
1 can (19 oz/540 ml) kidney beans
1⁄4 cup Greek yogurt
Preparation
Thinly dice celery. 
Heat oil in Wok over medium-high heat. Add celery and cook until softened, about 4 min. Add mushrooms and cook until lightly browned, about 4—6 min.  
Drain and rinse lentils and beans. Add both to wok with dip mix and broth; stir to combine. Bring to a boil and simmer until slightly thickened, about 3 min.  
Divide stew between 4 bowls and top with 1 tbsp yogurt.  
Nutritional Information
Per serving: Calories 340, Fat 8 g (Saturated 1 g, Trans 0 g), Cholesterol 0 mg, Sodium 440 mg, Carbohydrate 48 g (Fibre 20 g, Sugars 5 g), Protein 21 g.