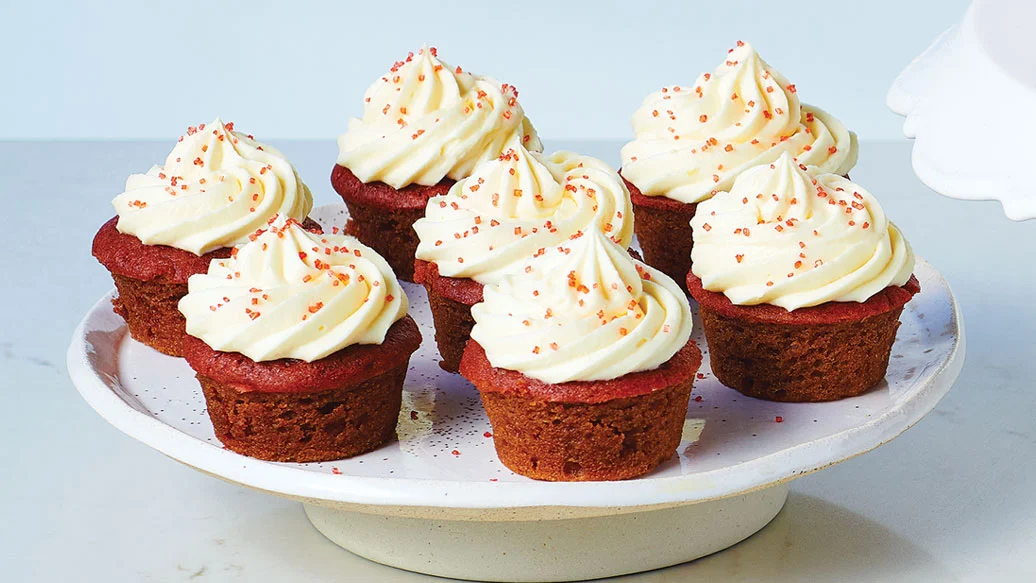 20 min
12 servings
$0.77/serving
Say goodbye to fire engine red cupcakes coloured with dye and hello to naturally coloured (thanks to beetroot powder), delicately red cupcakes. These treats are all about the sweet, subtle cocoa notes and creamy, rich icing. Gluten free, dye-free, and with no artificial colours. You'll love these at first bite. 
Ingredients
3⁄4 cup milk, your choice
2 tsp apple cider vinegar
2 eggs
1⁄3 cup oil
2 1⁄4 tsp vanilla extract, divided
1⁄2 cup light cream cheese, room temperature
2 tbsp butter
1⁄2 cup icing sugar
Preparation
Using a basting brush, lightly oil 2 Muffin Makers.
In a large bowl, whisk milk with vinegar. Whisk in eggs, oil, 2 tsp vanilla, and cupcake mix until well combined.
Divide batter evenly into pans, filling cavities about 2⁄3 full.
In 2 batches, microwave on high for 2 1⁄2 min. Rest in pan 5 min; invert onto wire rack to cool. Or, bake in preheated 350° F oven for 15–18 min, or until toothpick comes out clean. Cool in pan 10 min; unmold.
To make icing, use an electric mixer to beat cream cheese with butter until smooth. Beat in remaining vanilla and icing sugar, one spoonful at a time, until smooth. Allow cupcakes to cool completely before spreading on icing.
Nutritional Information
Per serving (1 cupcake): Calories 210, Fat 11 g (Saturated 3 g, Trans 0.1 g), Cholesterol 45 mg, Sodium 200 mg, Carbohydrate 24 g (Fibre 0 g, Sugars 14 g), Protein 3 g.