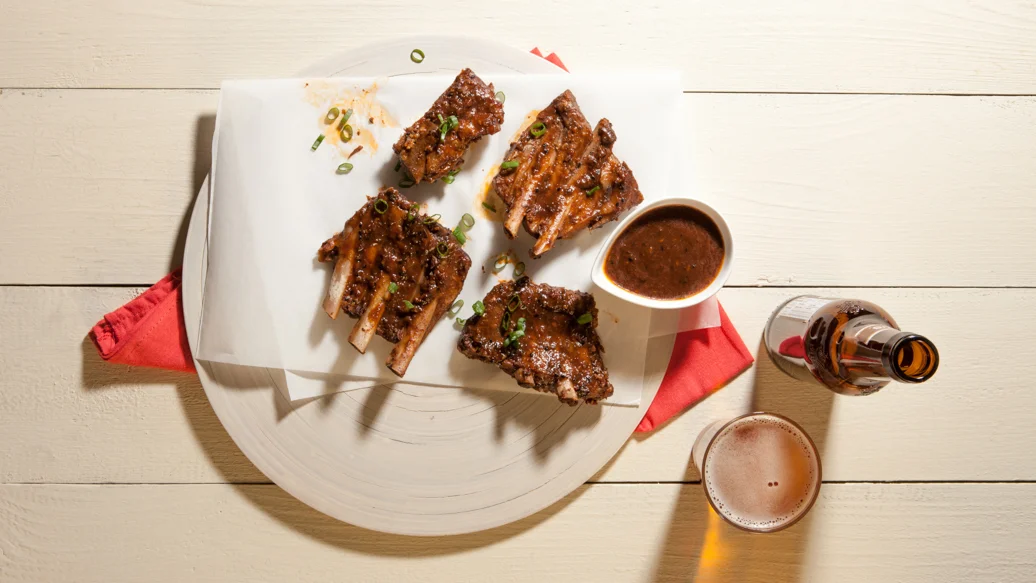 2 1/2 - 3 hrs
8 servings
$2.13/serving
Sauced with a combo of beer, barbecue sauce, sesame seed topper, and balsamic vinegar, they're dripping with lip-smacking goodness.
Ingredients
1 bottle (12 oz/ 355 ml) of beer
1 cup soy sauce
1⁄4 cup maple syrup or honey
2 tbsp balsamic vinegar
3 - 4 racks baby back ribs, cut into small sections
Preparation
Preheat oven to 350° F (175° C).
In a frying pan, stir beer with barbecue sauce, soy sauce, topper, maple syrup, and balsamic vinegar.
Bring to boil over medium-high heat, stirring often.
Place ribs in a large casserole dish or roasting pan. Pour sauce overtop, then turn to coat.
Cover pan tightly with foil, then bake in oven until fork-tender, about 2 to 2 1⁄2 hours.
Remove ribs, then carefully pour sauce back into frying pan. Skim excess fat from top of sauce. Bring to a boil, then simmer, stirring often, until sauce has thickened, approximately 8 minutes. If making ahead, refrigerate meat and sauce separately.
To serve, heat barbecue to medium-high. Lightly brush ribs with oil and barbecue, turning often, until lightly charred, 3 to 4 minutes per side. Reheat sauce, then serve on the side as a dipping sauce or generously slather over ribs.
Nutritional Information
Per serving: Calories 410, Fat 25 g (Saturated 9 g, Trans 0 g), Cholesterol 95 mg, Sodium 1250 mg, Carbohydrate 20 g (Fibre 1 g, Sugars 14 g), Protein 22 g.