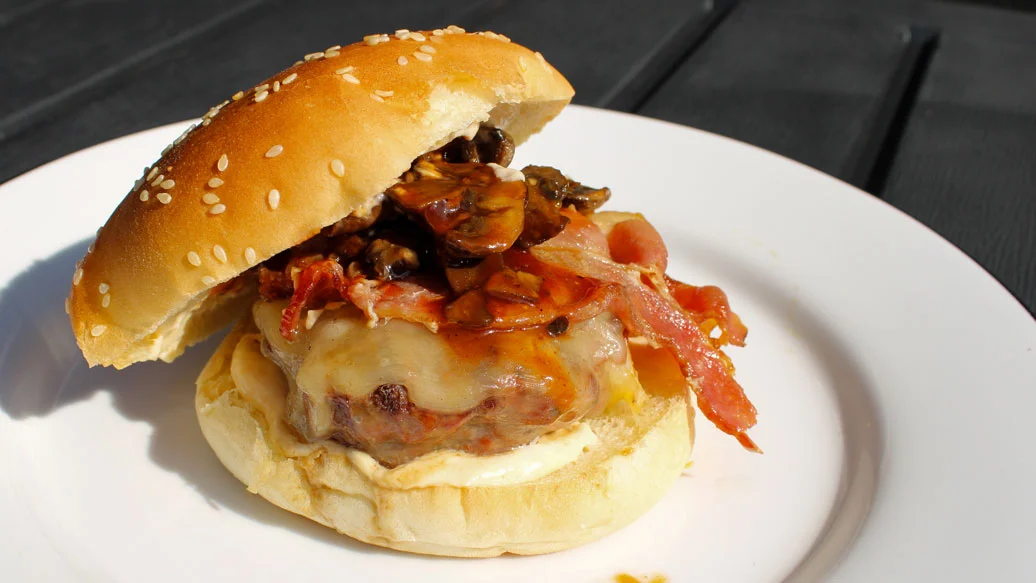 20 min
4 servings
$3.35/serving
Thank you, Darcie Baxter, for this recipe! This burger won the top prize in the Art of the Burger social media contest, so it's one you won't want to miss! "Mmmm" stands for "Maple Miso Mozza Mushroom"; in other words, all the good stuff. Recruit some little chefs to help prep the toppings and you'll all be saying "mmmm" in no time. Congratulations, Darcie!
Ingredients
1 egg
1 lb (450 g) lean ground beef
2 1⁄2 tbsp Maple Miso Marinade Mix, divided
4 slices mozzarella cheese
1 cup sliced mushrooms
1⁄2 tbsp oil + more for brushing
Maple syrup, to taste
1⁄4 large onion, optional
4 slices maple bacon
4 burger buns
2 tbsp BBQ sauce
Preparation
Preheat grill to medium-high heat. Lightly brush with oil to prevent sticking.   
In a large bowl, combine egg, beef, and 2 tbsp marinade mix. Using 3-in-1 Burger Press, form into 4 patties.  
Grill patties, with lid closed, 4–5 min per side, or until cooked. Add 1 cheese slice to each patty for final minute of cooking to melt. 
Meanwhile, toss mushrooms with remaining 1⁄2 tbsp marinade mix and oil. Lay out a 12" piece of aluminum foil and place mushrooms in the centre. Place a 6" piece of foil overtop. Roll up edges of the bottom piece of foil and fold over the top piece to form a packet.  
Place packet on the grill. Grill with lid closed 8 min, or until mushrooms are tender. Transfer grilled mushrooms to a bowl and toss with maple syrup.  
If using, slice onion into rounds and lightly brush with oil. Grill 3–4 min per side, or until tender. 
Place bacon in a single layer over tray in Multipurpose Steamer. Cover and microwave on high 4–5 min, or until crispy.  
Slice and toast buns, if desired. Spread aioli and BBQ sauce on top and bottom buns. Place patties on bottom buns; top with mushrooms, onion rings (if using), and bacon.
Nutritional Information
Per serving: Calories 550, Fat 27 g (Saturated 10 g, Trans 0.5 g), Cholesterol 140 mg, Sodium 960 mg, Carbohydrate 36 g (Fibre 2 g, Sugars 11 g), Protein 32 g.