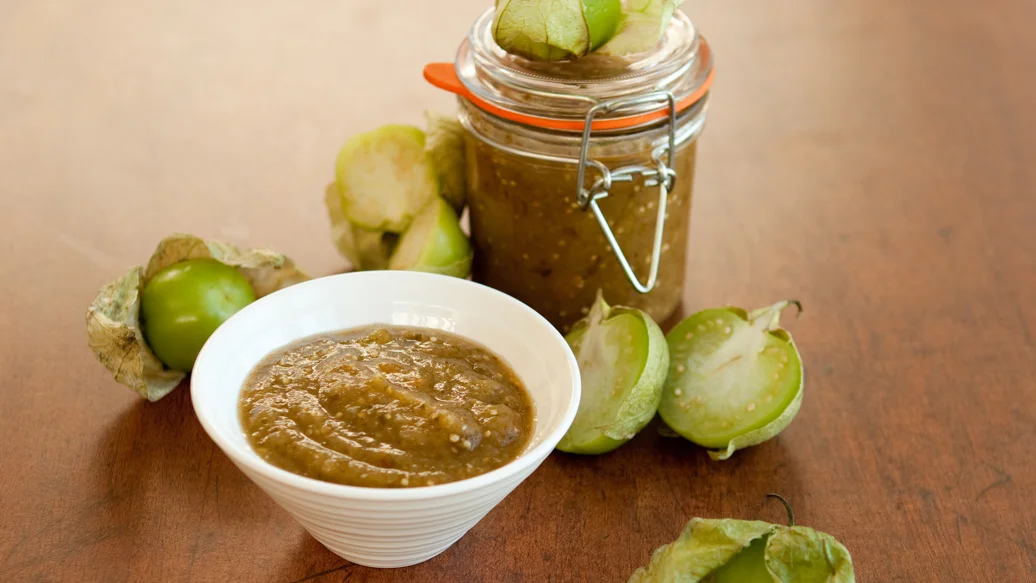 1 hour & 15 minutes
6 — 8 oz (250 ml) jars
$0.15/serving
An authentic Mexican salsa that's zesty, spicy, and bright! Great with grilled or roasted meats, chicken or any dish that needs a flavourful, fiery boost. Look for fresh, seasonal tomatillos at your local Mexican specialty store, but in a pinch, simply swap with canned tomatillos that are found in most grocery stores. 
Ingredients
2 lbs (900 g) tomatillos
3 garlic cloves
2 onions
2 jalapeños
1 cup chopped cilantro
2 tsp salt
4 cups water
Preparation
Combine all ingredients in Multipurpose Pot. Bring to a boil, stirring constantly. Reduce heat and simmer for 20–30 minutes, until tomatillos are very tender and mixture is thick. Working in batches, purée until smooth.
Ladle into hot, sterilized jars to within 1⁄2" of rim. Use a non-metallic utensil to remove any air bubbles. Wipe edges with a clean, damp cloth. Cover with prepared lids and screw bands, being careful not to over-tighten.
Place filled jars in the boiling water bath, adding more boiling water as needed to cover jars by about 1". Bring to a boil again. Cover and continue boiling for 15 minutes. Lift jars out of water and place on cooling rack. Cool to room temperature.
Nutritional Information
Per serving: Calories 10, Fat 0.3 g (Saturated 0 g, Trans 0 g), Cholesterol 0 mg, Sodium 95 mg, Carbohydrate 2 g (Fibre 0 g, Sugars 1 g), Protein 0.3 g.