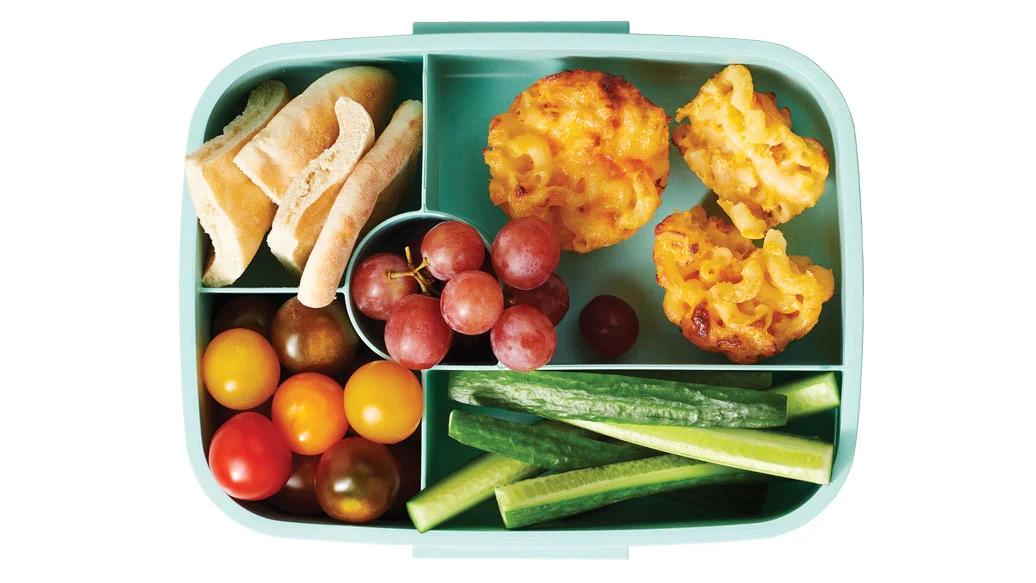 25 min
6 servings
$1.48/serving
Mac & cheese that's meant to be eaten with your hands! This twist on a kid's classic is guaranteed to be gobbled up at lunch. Whether it's a packed lunch or birthday party, these morsels of cheesy goodness will bring joy and excitement to every bite.  
Ingredients
2 cups uncooked macaroni noodles
1 egg
2 cups grated cheddar cheese
1⁄2 cup milk, your choice
2 tbsp unsalted butter
Preparation
Preheat oven to 425° F. Place two Muffin Makers on Sheet Pan.  
In Multipurpose Pot set over high heat, boil pasta until tender, about 6–8 min. Drain. Add seasoning, egg, cheese, milk, and butter. Stir until evenly mixed.
Spoon into muffin cups—they will be full. Bake at least 12 min or until tops are golden.  
Serve warm or, if making ahead, let cool before removing from cups.  
Nutritional Information
Per serving (2 bites): Calories 380, Fat 20 g (Saturated 12 g, Trans 0.2 g), Cholesterol 100 mg, Sodium 470 mg, Carbohydrate 30 g (Fiber 2 g, Sugars 4 g), Protein 18 g.
Tips
Customize your Mac & Cheese Bites your way! Stir in veggies, prepared protein, or extra seasonings of your choice before baking. Swap out different cheeses, such as Tex-Mex or Pepper Jack pre-seasoned cheese blends.
Recipe makes enough for six lunches (2 per lunch). Wrap bites individually and refrigerate for up to 4 days.
Omit the egg and stir in an extra cup of cheese or 2 tbsp chia seeds before baking. Let cool completely before removing from cups and serve cool.