Red Pepper Jelly Grilled Chicken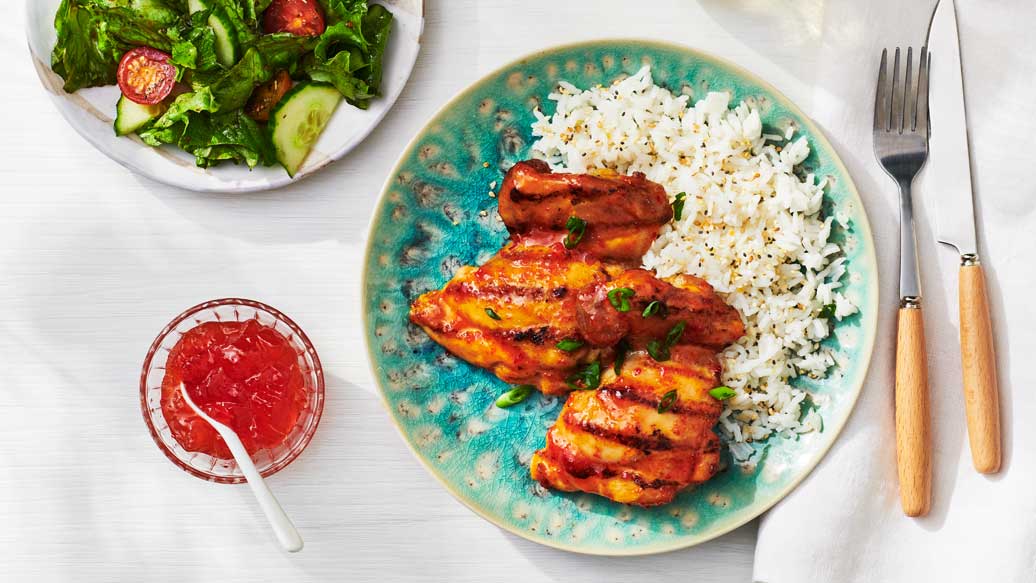 20 min
4 servings
$1.76/serving
Perfectly Balance Your Plate
Serve with 1⁄2 cup rice, 2 cups leafy greens and 1 tbsp Epicure Dressing, your choice.
Ingredients
1 lb (450 g) boneless, skinless chicken thighs
1 tbsp oil
1 tbsp miso paste, white or yellow
2 tsp lemon juice
1 tsp hot sauce, optional
Toppings (optional): Everything Bagel Whole Food Topper, sliced green onions
Preparation
Preheat grill to medium-high heat.  
In a bowl, toss chicken with oil. Season with salt and pepper.  
Place chicken on grill. Barbecue, with lid closed, 3 min per side.   
While the chicken is grilling, in a microwave safe bowl, combine jelly, miso, lemon juice, and hot sauce, if using. Microwave, uncovered, 30 sec, or until jelly has melted. Whisk to combine. Remove 2 tbsp from bowl and set aside.  
Continue to grill chicken, turning and brushing with glaze until cooked through and glaze starts to caramelize.  
Toss cooked chicken in reserved glaze. Garnish with additional toppings, if desired.
Nutritional Information
Per serving: Calories 210, Fat 8 g (Saturated 1 g, Trans 0 g), Cholesterol 90 mg, Sodium 470 mg, Carbohydrate 11 g (Fiber 0 g, Sugars 10 g), Protein 24 g.
Tips
Miso paste is a Japanese food made from fermenting soybeans. The longer it ferments, the stronger the flavour. We suggest using white or yellow miso for a more mellow flavour. For a more pungent flavour, try red miso. You can find miso paste in most grocery stores, it's often in the same section as the tofu.
Cooking time may vary depending on thickness of your chicken and your grill. To test chicken for doneness, insert an instant read thermometer into the thickest part of the meat. It should register at 165° F.