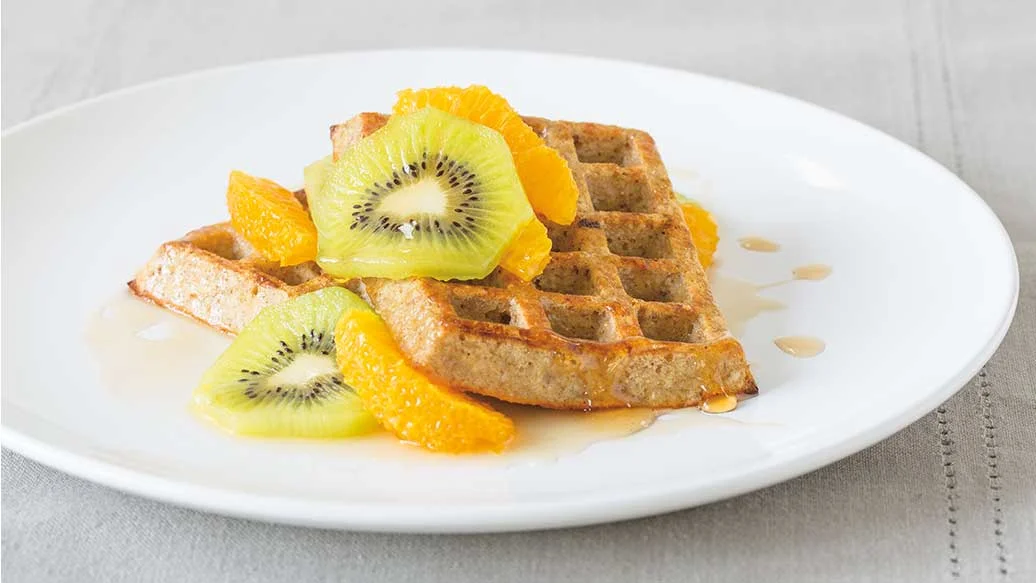 30 min
12 waffles
$2.64/serving
Makes a double batch—freeze leftovers for easy grab-and-go toaster breakfasts!
Perfectly Balance Your Plate
Serve with 1⁄2 cup 2% plain Greek yogurt and 1⁄2 cup berries.
Ingredients
2 1⁄2 cups quick oats or gluten-free oats
1 1⁄2 tsp baking powder
2 cups 2% plain Greek yogurt or dairy-free alternative
2⁄3 cup egg whites
2⁄3 cup applesauce
1⁄2 cup water
3 tbsp honey
2 tsp vanilla extract
Preparation
Preheat oven to 425° F. Place a lightly oiled waffle mold on a Sheet Pan.
Place oats in a food processor and blend to the consistency of flour. Whirl in Protein Blend, baking powder, and Apple Pie Spice. Pour into a large bowl.
In a separate medium bowl, whisk wet ingredients. Pour over dry ingredients and stir until just combined.
Pour approximately 1⁄3 cup batter into each mold, filling all corners.
Bake 12–15 min, or until golden.
When cool to the touch, flip mold over a platter and gently remove waffles. 
Repeat steps 4–6 with remaining batter.
Nutritional Information
Per serving (2 waffles): Calories 300, Fat 4.5 g (Saturated 1.5 g, Trans 0 g), Cholesterol 5 mg, Sodium 190 mg, Carbohydrate 42 g (Fibre 5 g, Sugars 15 g), Protein 21 g.
Tips
Make this recipe into 12 muffins as part of an easy breakfast on the go: bake at 375° F for 12–15 min.