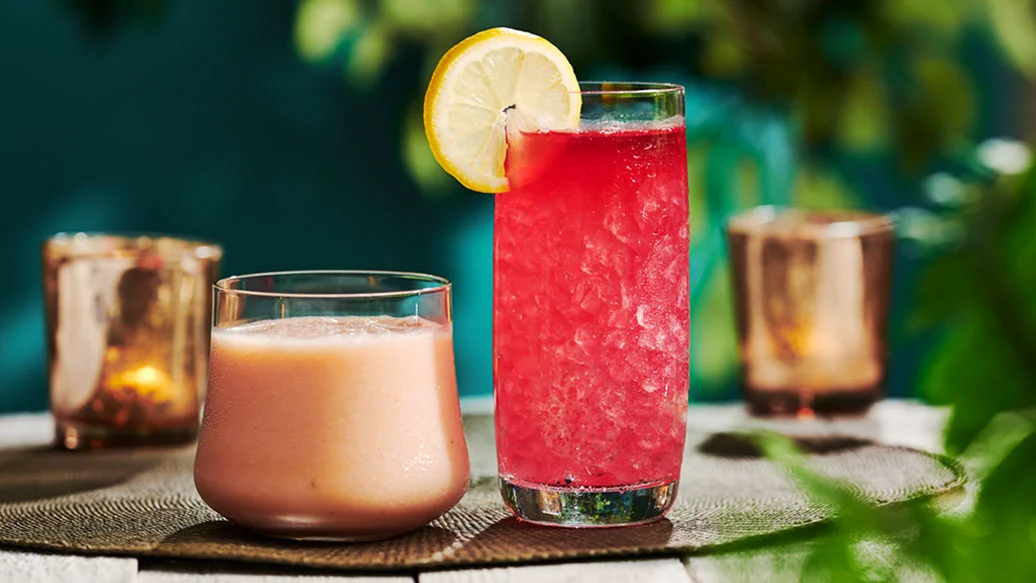 15 min
4 servings
$1.09/serving
Cheers to a sip of pure bliss! Our secret ingredient? A homemade simple syrup infused with the subtly sweet and floral flavors of tea. But here's the best part: it's low in sugar, so you can sip guilt-free without sacrificing taste. Prep the syrup ahead of time to create these cocktails quickly and easily for your guests. For a mocktail version, omit vodka.
Ingredients
COSMIC SIMPLE SYRUP
1⁄2 cup blueberries
1⁄2 cup sugar
1⁄2 cup water
COSMIC COCKTAIL
Ice (see Tip to make Blue Butterfly ice)
2 oz vodka, optional
4 cups club soda
1⁄4 cup lemon juice
Preparation
To make simple syrup, add blueberries, sugar, and water to Multipurpose Pot. Stir to combine. Add tea bags. Bring to a boil; reduce heat and simmer until slightly thickened, about 8–10 min. Gently press tea bags with the back of a spoon to release more flavour and colour. Using a fine mesh sieve, strain. Pour into a glass and chill.
Fill four glasses with ice. Pour 1 tbsp simple syrup into each glass. If you prefer a sweeter cocktail, add 2 tbsp syrup. Add vodka, if using, then sparkling water. Stir gently to combine.
Pour 1 tbsp lemon juice into each glass just before drinking—your guests will be amazed by the change in colour from deep purple to pink!
Nutritional Information
Per serving (about 1 cup): Calories 70, Fat 0 g (Saturated 0 g, Trans 0 g), Cholesterol 0 mg, Sodium 50 mg, Carbohydrate 10 g (Fiber 0 g, Sugars 8 g), Protein 0.1 g.
Tips
Make Blue Butterfly ice! Simply pour steeped, chilled Blue Butterfly Tea into ice cube molds. Freeze.
Prep the syrup ahead of time; store up to 1 week.